Imprimé
Lettrage
Carte d'affaire. Brochure. Packaging. Clopecafé - l'actualité graphique, mode, design et pub. Magazine Lifestyle & Seo. Design / Graphisme Archives. Design Graphique | AA13 / Blog Design & Architecture / Inspiration / Tendance. 30 Uniquely Designed Wedding Invitations. Inspiration Grid | Design Inspiration. 140+ Beautiful, Most Creative & Fresh Brochure Design Inspiration – Best (so far) of 2012. We love brochure design.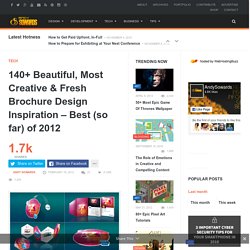 They were probably some of the first print materials I ever encountered in life, since they were free usually I would always end up with a bunch of them as a kid to keep me occupied as my parents were shopping for things (fun to play with too!). So in celebration of the awesomeness of brochure design we found some of the most freaking awesome, unique, and creative brochure designs we have ever seen! We hope these designs inspire you on your next project – they might even make you so excited that you'll order your brochures next day delivery. also if you like these you will love the last epic brochure post we did, with amazing brochure inspiration from 2011!
44 Awesome Business Card Designs that Will Inspire You. Inspiration February 18, 2010 Business-minded people are into creating ways to advertise and get in touch with important and influential people in the society.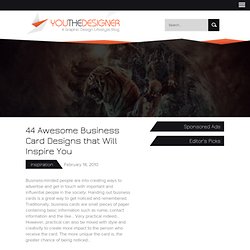 Handing out business cards is a great way to get noticed and remembered. Traditionally, business cards are small pieces of paper containing basic information such as name, contact information and the like… Very practical indeed… However, practical can also be mixed with style and creativity to create more impact to the person who receive the card. The more unique the card is, the greater chance of being noticed… In this post, we have compiled 44 Impressive Examples of Business Card Designs for all business card users out there. Inspiration | Onextrapixel - Web Design & Development Online Magazine - Part 2. 50 Examples of Wonderfully Designed Wedding Invitations. It's astounding how many people weddings provide employment to: photographers, caterers, florists and even designers can make a great living by focusing partially or even completely on wedding-related clients.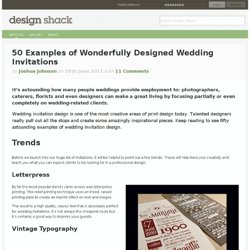 Wedding invitation design is one of the most creative areas of print design today. Talented designers really pull out all the stops and create some amazingly inspirational pieces. 40+ Creative Advertising Posters | Inspiration. Advertising Posters are great at getting people's attention as long as you don't make them too text heavy and you include an eye-catching most effective graphic in look-at-me colors.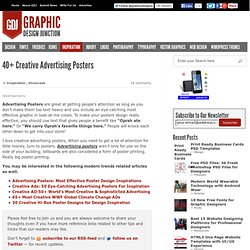 To make your posters design really effective, you should use text that gives people a benefit like "Oprah ate here." Or "We carry Oprah's favorite things here." People will knock each other down to get into your store! I love creative advertising posters, When you need to get a lot of attention for little money, turn to posters. Advertising posters aren't only for use on the side of your building; billboards are also considered a form of poster printing. Creative and Inspirational Wedding Invitation Cards. Invitation Card Designs make any occasion seem special.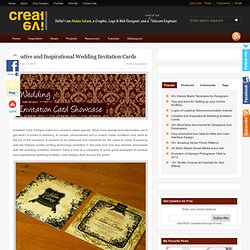 What more special and memorable can it get when it comes to wedding. A unique, personalized and a custom made invitation card adds to the joy of the occasion, a moment to be treasured and cherished for the years to come. Engraving was the highest quality printing technology available in the past and now has become associated with the wedding invitation tradition. 30 Creative Examples of Typography Poster Designs. If I'm ever in need of an inspiration fix I look no further than typographic poster designs.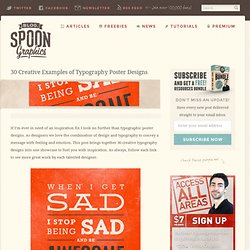 As designers we love the combination of design and typography to convey a message with feeling and emotion. This post brings together 30 creative typography designs into one showcase to fuel you with inspiration. 50 Beautiful Printed Brochure Designs For Your Inspiration. 40 Unique Wedding Invitation Designs. Learn how to earn $125 or more per hour as a freelancer - Click Here Looking for hosting?.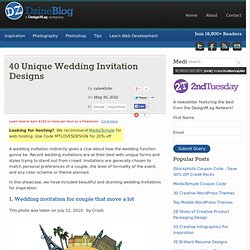 We recommend MediaTemple for web hosting. Use Code MTLOVESDESIGN for 20% off A wedding invitation indirectly gives a clue about how the wedding function gonna be. Recent wedding invitations are at their best with unique forms and styles trying to stand out from crowd. 25 Beautiful & Modern Poster Designs. Like we said before , if you want to become a better designer, the only way to do it is to learn by doing.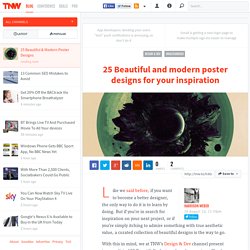 But if you're in search for inspiration on your next project, or if you're simply itching to admire something with true aesthetic value, a curated collection of beautiful designs is the way to go. With this in mind, we at TNW's Design & Dev channel present to you a list of 25 Beautifully designed modern posters. Check them out and let us know your favorites in the comments below the post: Enter The 36 Chambers : Vintage Audi : Inspirationfeed - be inspired! 83 Crazy/Beautiful Letterhead and Logo Designs.
Inspiration December 22, 2009 Whap!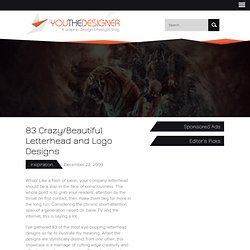 Like a flash of satori, your company letterhead should be a slap in the face of consciousness. Design in Europe - news archive - greece. Simon Silaidis 22/08/2013 [Greece] [permalink] Simon is the man behind Urban Calligraphy, his subsidiary love for letters and his travels in all sorts of crazy places around the world to study calligraphy in its native environment is what gave him the vision and the initiative to explore and embrace this new aspect of calligraphy.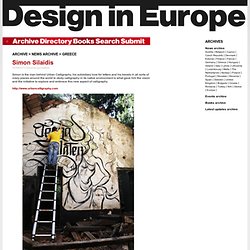 Graphicsgarage05/12/2012 [Greece] [permalink] Multidisciplinary creative studio based in Athens. Création et design graphique :: avec1e - alain desmurger. 60 Beautiful Logo Designs For Design Inspiration. A Logo is a graphical element that, together with its logotype (a uniquely set and arranged typeface) form a trademark or commercial brand. Typically, a logo's design is for immediate recognition. The logo is one aspect of a company's commercial brand, or economic or academic entity, and its shapes, colors, fonts, and images usually are different from others in a similar market.
Logos are also used to identify organizations and other non-commercial entities. These types of corporate identities are often developed by large firms who specialize in this type of work. 20 Creative Resume Designs Which Will Amaze Any Potential Employer. InspirationBy TimothyBlake · On March 21, 2011 A great showcase design post of some truly creative and inspiration CV designs which im sure would blow away any potential employer. The post focus on creative designs which make use of creative layout and designs which focus on colour. We would love for you to share within the comments your favourite designs from the post 1.My Resume 2.Creative Resume I Designed for Class.
Inspiration. Coverjunkie. Visual evasion : graphisme, webdesign, illustration et photographie - le blog de Jérémie Werner. Le tatouage n'est plus aujourd'hui l'exclusivité des marins ou des prisonnier, il ne se pratique plus dans les arrières-salles des bistrots de quartiers mais dans des lieux plus ouverts, aux grandes baies vitrées et aux yeux de tous. Pourtant, malgré cette nouvelle démocratisation, il reste aujourd'hui un art méconnu. C'est un moyen d'expression fort aux influences multi-culturelles : sa diversité puise dans les cultures ancestrales, le mouvement graffiti, les icônes pop, les extraits littéraires, mais surtout dans les moments de vie, l'introspection et les échanges humains.
30 Unusual Creative Business Card Designs For Your Inspiration | Dzine Blog. Learn how to earn $125 or more per hour as a freelancer - Click Here Looking for hosting?. We recommend MediaTemple for web hosting. Use Code MTLOVESDESIGN for 20% off We have seen, a business card can impress and make people notice and remember you. Creative - Galerie d'inspiration pour les créatifs. Robryan. Design in Europe - home of european design, webdesign, illustration and photography.
---