Wildcard
Offers - Facebook Help Center
You can get discounts from businesses when they post an offer on their Facebook Page. To claim an offer, click Get Offer from the story anywhere you see it on Facebook, and we'll send you an email with details about how to redeem the offer. Certain businesses, brands and organizations can share discounts with their customers by posting an offer on their Facebook Page.
AskYourUsers: On Demand Micro-Consultants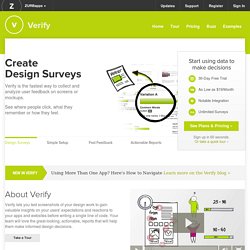 Test Your Designs, Get DataVerify is the fastest way to collect and analyze user feedback on screens or mockups. See where people click, what they remember, or how they feel. Simple SetupIn less than 3 minutes you can set up a Verify test on a screenshot. Get design feedback, memory or comprehension data, and more with one of 9 test types. Gather Feedback QuicklyWe collect the data for you in real time from anywhere. Share tests easily with public or private URLs.
Drop-In-Simple Social Platform for Your App. Great as a ShareKit Alternative | Socialize | Socialize
Introduce yourself to your users and start having conversations with them. We help you identify, target and reward your most valuable users. When a user authenticates with a social network through Socialize, we provide you detailed data on that user, including GeoData, device type, Klout score, social reach, number of friends and followers and much more. Our algorithm calculates and scores that user's value to you, so you can quickly identify and reward your influencers.
Meal Planning Made Easy Cooking at home during the week can be difficult if you don't have a plan. If you need family meal planning help, you've come to the right place. Through our simple-to-use meal planner, you can select weekly meal planning recipes that use the sales at your local grocery store. Our recipes are quick and easy, and can be made in less than 45 minutes. You can become your family's weekly meal planner!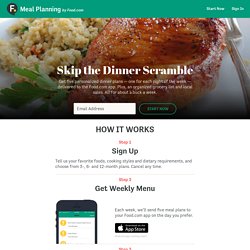 Viewpoints.com