Math
KS2 Bitesize: Maths - Converting fractions to decimals - activity
Algebra in the Real World Movies with Activities
Specializing in saltwater aquariums, Nic Tiemens and Joe Pineda love the challenge of recreating a slice of the ocean indoors. Day in and day out, they use volume calculations, temperature, measurement and science to create these beautiful habitats. Running time 5:25 minutes. Columbia Sportswear Designer Chris Araujo combines innovation with design to create backpacks for one of the largest outdoor apparel companies in the world.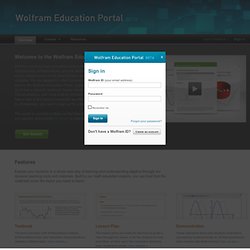 Education Portal: Free Resources and Materials for Teachers
Wolfram has long been a trusted name in education—as the makers of Mathematica , Wolfram|Alpha, and the Wolfram Demonstrations Project, we've created some of the most dynamic teaching and learning tools available. We are pleased to offer the best of all of our technologies to you here in the Wolfram Education Portal, organized by course. In the portal you'll find a dynamic textbook, lesson plans, widgets, interactive Demonstrations, and more built by Wolfram education experts. You can take a look at the types of materials we offer below, but to get full access to all materials, you need to sign up for a free account. The portal is currently in Beta, so feel free to explore the materials we've put together and provide feedback to help us improve the project.
Simplify fractions: using the greatest common factor | Common Core: 5.NF.1 | LearnZillion