Art
Silk - StumbleUpon. Before I Die & Candy Chang. What is important to you 2011 After Candy Chang lost someone she loved, she went through a long period of grief and depression.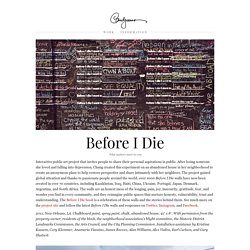 With time she felt gratitude for the time they had together and eventually she found clarity in her life by contemplating death so much. But she struggled to maintain this perspective. It's easy to get caught up in the day-to-day and forget what really matters to you. - StumbleUpon. I Have a (Puzzling) Dream. Bomomo - StumbleUpon.
Drawing. This is What Happens When You Give Thousands of Stickers to Thousands of Kids. This December, in a surprisingly simple yet ridiculously amazing installation for the Queensland Gallery of Modern Ar, artist Yayoi Kusama constructed a large domestic environment, painting every wall, chair, table, piano, and household decoration a brilliant white, effectively serving as a giant white canvas.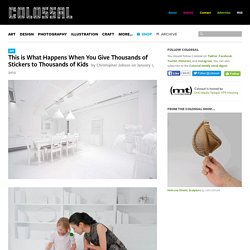 Over the course of two weeks, the museum's smallest visitors were given thousands upon thousands of colored dot stickers and were invited to collaborate in the transformation of the space, turning the house into a vibrantly mottled explosion of color. How great is this? Given the opportunity my son could probably cover the entire piano alone in about fifteen minutes. - StumbleUpon. 106 of the most beloved Street Art Photos. More info.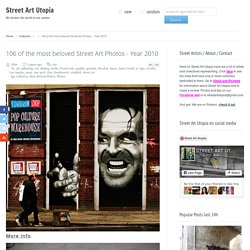 More info. More Banksy on streetartutopia.com. The Chromatic Typewriter. Washington-based painter Tyree Callahan modified a 1937 Underwood Standard typewriter, replacing the letters and keys with color pads and hued labels to create a functional "painting" device called the Chromatic Typewriter.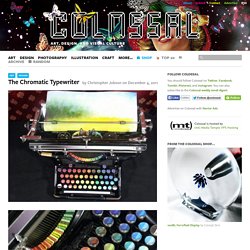 Callahan submitted the beautiful typewriter as part of the 2012 West Prize competition, an annual art prize that's determined by popular vote. I don't know how practical painting an image with a color typewriter is, but if Keira Rathbone can do it… (via dark silence in suburbia) Super Fast Spray Paint Artist. Inspirational Quotes (20 pics)
---