DIY - Paper
Home. Miss Fancy Pants: Fancy This: Party Favors. Hello!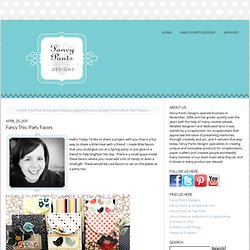 Today I'd like to share a project with you that is a fun way to share a little treat with a friend. I made little favors that you could give out at a Spring party or just give to a friend to help brighten her day. There is a small space inside these favors where you could add a bit of candy or even a small gift. These would be cute favors to set on the plates at a party too. Fancy Pants supplies:It's the Little Things: Four Birds, Feathered, Hummingbird, Honeysuckle, Headed South Patterned PaperIt's the Little Things: Rub-onsIt's the Little Things: Glitter CutsIt's the Little Things: Element StickersIt's the Little Things: Design EmbellishmentsIt's the Little Things: Buttons and TrimIt's the Little Things: Chipboard Elements.
Color Trends + Palettes. On the wall. Channels. . Patiently guided. Fly away. Sea of fire. Blue tango. Floating away now. Stuck on this twig. Oh So Beautiful Paper: A Paper Blog – Unique and Custom Wedding Invitation Ideas and Modern Stationery.
---