Tutorials
Written by Steve Patterson. In this Photoshop Effects tutorial, we're going to learn how to add beams of sunlight through trees, which is not only a great way to make an image look more interesting, it's also a lot easier to do than you might think, as we'll see. We'll even finish things off by making the sunbeams appear to be shining on the ground after they pass through the trees, which adds more realism to the final effect. Here's the image I'll be starting with in this Photoshop tutorial: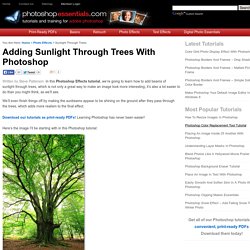 Non-Destructive Lens Flare Effect In Photoshop
Written by Steve Patterson. In this Photoshop Effects tutorial, we'll learn how layer blend modes make it easy to add a popular lens flare effect to a photo without making any permanent changes to our image. We'll start by adding the lens flare normally to position it exactly where we want it, then we'll undo the effect, add a new layer, re-apply the lens flare instantly using a handy keyboard shortcut, and finally, we'll blend the lens flare into the image using one of Photoshop's most common and widely used blend modes. Here's the image I'll be working with: The original image.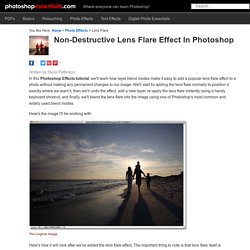 Many people today use the internet as their main way to communicate with friends, manage their financial affairs, do their shopping, and ultimately live their lives. However, there is increasing concern about how to ensure that your security is properly protected when you are online, and that How about designing a website without having to write a line of code?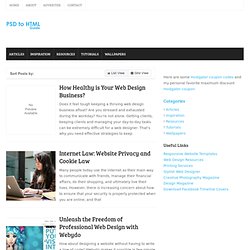 Psd to Html Tips, Tutorials and Resources
60 Best Photoshop Lighting Tutorials | psdtohtmlguide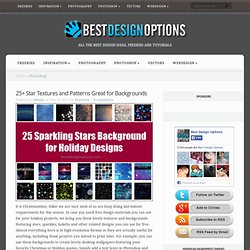 Photoshop
25+ Star Textures and Patterns Great for Backgrounds It is Christmastime, folks! we are sure most of us are busy doing last-minute requirements for this season. In case you need free design materials you can use for your holiday projects, we bring you these lovely textures and backgrounds featuring stars, sparkles, bokehs and other related designs you can use for free.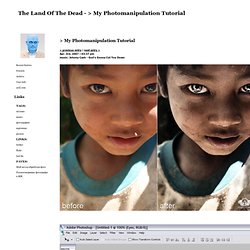 1. Откройте фотографию2. Сделайте дубликат оригинального слоя и назовите его "Eyes" (ну это чисто для удобства :)3. Поменяйте режим смешивания (blend mode) нового слоя на Screen 4. Добавьте маску для нового слоя (layer mask) и залейте её черным цветом.5.
The Land Of The Dead - > My Photomanipulation Tutorial
Photoshop
There are essential features that you can incorporate in your web page that can make a difference to its visual appearance and functionality. A particular feature or element is the… Share Aside from textures, there is a design element which a graphic artist or web designer can use to add detail and fill the background layer of a graphic, website or… In this tutorial we're going to create a nice animation that you can use in your videos as an intro or credits. The effect is inspired from the Battlefield 3…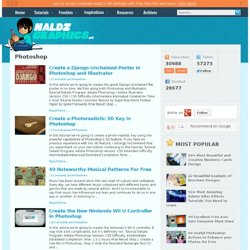 VIP MEMBER EXCLUSIVE TUTORIAL – CREATING A EDGY, COLOURFUL FASHION PHOTO-MANIPULATED ARTWORK The Creation of "Overlord" Digital Art in Photoshop DRAW A REALISTIC RETRO RADIO USING PHOTOSHOP AND ILLUSTRATOR FROM SCRATCH 30 Unique, Absolutely Stunning Examples of Character Design Create Melted Metal Text Effect in Photoshop 30 ABSOLUTELY MIND-BOGGLING EXAMPLES OF CONCEPTUAL PHOTO MANIPULATION VIP MEMBER EXCLUSIVE TUTORIAL – CREATING A EDGY, COLOURFUL FASHION PHOTO-MANIPULATED ARTWORK The Creation of "Overlord" Digital Art in Photoshop