Tools
86 Helpful Tools for the Data Professional PLUS 45 Bonus Tools
I have been working on this (mostly) annotated collection of tools and articles that I believe would be of help to both the data dabbler and professional. If you are a data scientist, data analyst or data dummy, chances are there is something in here for you. Included is a list of tools, such as programming languages and web-based utilities, data mining resources, some prominent organizations in the field, repositories where you can play with data, events you may want to attend and important articles you should take a look at.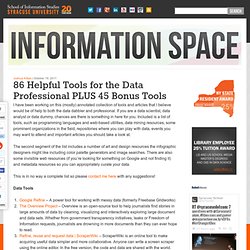 5 Tips to Ensuring Your Resume Produces Top Results
A professionally written resume is an important component to any job search. The overall effectiveness of the document however depends on certain variables; such as how/how often the resume is used, the types of marketing/submission strategies, and the continued relevance of the resume's content. Concentrating on these important aspects (and others) ensures the resume will produce the all-important interviews we strive for. You see the resume one way, but hiring managers see it differently. 1.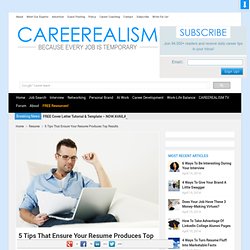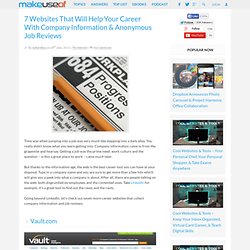 7 Websites That Will Help Your Career With Company Information & Anonymous Job Reviews
But thanks to the information age, the web is the best career tool you can have at your disposal. Type in a company name and you are sure to get more than a few hits which will give you a peek into what a company is about. After all, there are people talking on the web: both disgruntled ex-employees and the contented ones. Take LinkedIn for example; it's a great tool to find out the raves and the rants. Going beyond LinkedIn, let's check out seven more career websites that collect company information and job reviews.
Power Networking for Introverts
Browse Articles & Databases
Nicole Fonsh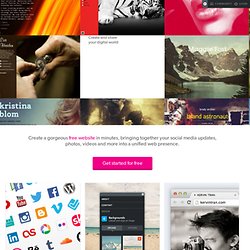 Library school is full of presentations. Whether it's a short, informal talk or a long, detailed speech, I've had to give some kind of presentation for almost every library school class I've taken. Partly just a given in academia, frequent presentations will also be a reality for many of us in our future careers. LIS professionals are often expected to speak eloquently and concisely to everyone from peers to administrators to the general public. Over the last few semesters, I feel as though I've learned so much more about presenting and presentation styles from my LIS peers and professors than I ever did in undergrad.
Librarians, Libraries And Facebook
Enhance Your Online Conversations With Jing Jing gives you the basic tools to start sharing images and short videos of your computer screen. Capture What You See Capture an image of what you see on your computer screen with Jing. Simply select any window or region that you want to capture, mark up your screenshot with a text box, arrow, highlight or picture caption, and decide how you want to share it.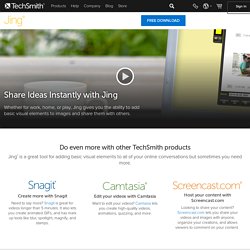 What is the Statistical Abstract? The Statistical Abstract of the United States , published since 1878, is the authoritative and comprehensive summary of statistics on the social, political, and economic organization of the United States. Use the Abstract as a convenient volume for statistical reference, and as a guide to sources of more information both in print and on the Web. Sources of data include the Census Bureau, Bureau of Labor Statistics, Bureau of Economic Analysis, and many other Federal agencies and private organizations. The U.S. Census Bureau is terminating the collection of data for the Statistical Compendia program effective October 1, 2011.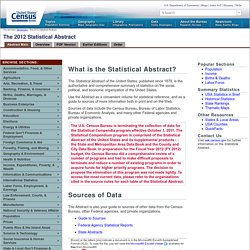 In classification , one of the distinguishing characteristic s of a class , identified as a means of differentiating it from other classes. As defined in FRBR ( Functional Requirements for Bibliographic Records ), one of a set of characteristics enabling users of information to formulate queries and evaluate responses when search ing for information about a specific entity . Attributes can be inherent in the entity (physical characteristics, labeling information, etc.) or supplied by an external agent (assigned identifiers, context ual information, etc.). For example, the logical attributes of a creative work include its title , form, date of creation, intended audience , etc. As a general rule, a given instance of an entity exhibits a single value for each attribute, but multiple values are possible (a work may be published under more than one title or in more than one form), or a value may change over time ( date of publication for serial s).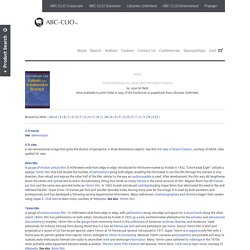 Federal Agencies Digitization Guidelines Initiative
Library 2.0 - Librarians and the Internet, Social Media, and Web 2.0
Turabian Footnotes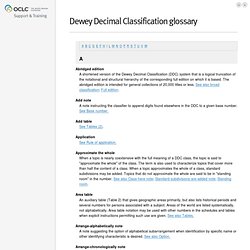 Dewey glossary [OCLC - This resource has moved]
Print document Close document Abridged edition A shortened version of the Dewey Decimal Classification (DDC) system that is a logical truncation of the notational and structural hierarchy of the corresponding full edition on which it is based. The abridged edition is intended for general collections of 20,000 titles or less. See also broad classification ; Full edition .
Library Lingo