Articles
'Scrapers' Dig Deep for Data on the Web
Librarians: Masters of the info universe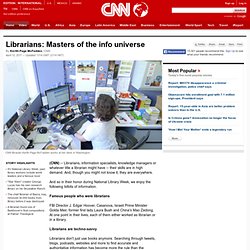 CNN librarian Kerith Page McFadden works at her desk in Washington. It's National Library Week; past library workers include world leaders and a famous lover"Star Wars" creator George Lucas has his own research library on his Skywalker Ranch.The chief librarian of Basra, Iraq, removed 30,000 books from library before it was destroyedA librarian found one of Beethoven's final compositions at Palmer Theological
There's an important point here that, I think, a lot of people need to be reminded of, which is: [your search engine of choice] is not the internet; just because you can't find something there doesn't mean it doesn't exist. Many people have a tendency to seek a single source of information, whether it be a specific media outlet, search engine, portal (remember the "AOL is not the internet" days), et cetera, because it's just easier that way. Bottom line: General purpose search engines are like duct tape, you CAN use them to do almost anything, but that doesn't mean that you SHOULD. 4/05/11 10:13am
When Not to Google: Searches You're Better Off Making Elsewhere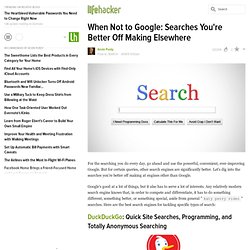 The silver lining of NSA surveillance
The trouble with Google Books - Laura Miller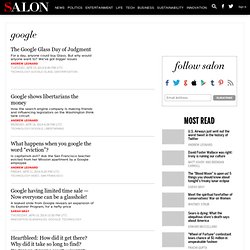 By Geoffrey Nunberg
Google's Book Search: A Disaster for Scholars - The Chronicle Review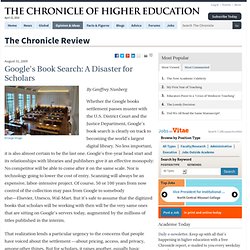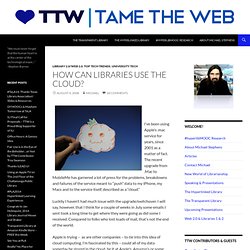 I've been using Apple's .mac service for years, since 2001 as a matter of fact. The recent upgrade from .Mac to MobileMe has garnered a lot of press for the problems, breakdowns and failures of the service meant to "push" data to my iPhone, my Macs and to the service itself, described as a "cloud." Luckily I haven't had much issue with the upgrade/switchover.
How Can Libraries Use the Cloud? Tame The Web
How Government Data Can Improve Lives - Economic View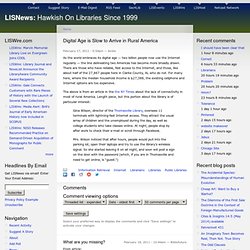 As the world embraces its digital age — two billion people now use the Internet regularly — the line delineating two Americas has become more broadly drawn.
Digital Age is Slow to Arrive in Rural America
39;s February 2011 Trend Briefing covering CITYSUMERS
Growing numbers of consumers can no longer escape an awareness of the damage done by their consumption: to the planet, society, or themselves. But a mixture of indulgence, addiction and conditioning mean that most can't substantially change their consumption habits. The result?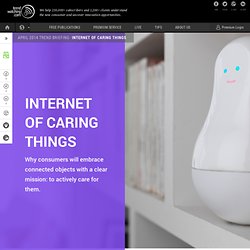 Bulletin December 2008/January 2009
Bulletin, December 2008/January 2009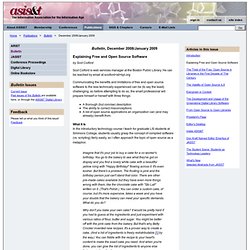 The State of The Music Industry & the Delegitimization of Artists (TuneCorner)
Email - a Six Part Series by Jeff Price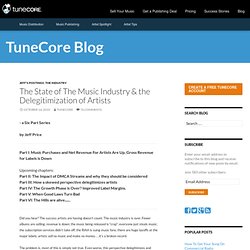 File Not Found: The Record Industry's Digital Storage Crisis | Rolling Stone Culture
News, Press Releases and Reports - Working Group on the Future of Bibliographic Control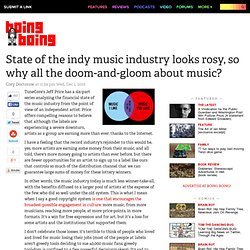 State of the indy music industry looks rosy, so why all the doom-and-gloom about music?
TuneCore's Jeff Price has a six-part series analyzing the financial state of the music industry from the point of view of an independent artist.
I've argued for some time that there are no longer any plausible scenarios by which a format will ever go obsolete if it has been in wide use since the advent of the Web in 1995. In that time no-one has shown me a convincing counter-example; a format in wide use since 1995 in which content is no longer practically accessible. I accept that many formats from before 1995 need software archeology, and that there are special cases such as games and other content protected by DRM which pose primarily legal rather than technical problems.
39;s Blog: The Half-Life of Digital Formats
Every fall, a new group of graduate students arrives in the classroom on their way to becoming librarians and information professionals.Each group is full of energy and ideas, and ready to take on the world. Each student believes in the power of information, even before they fully realize the power that information holds. Every person is willing to make sacrifices in order to reach his/her goal.
What I want LIS students to know
Old news ... the London Review of Books is no longer top of young people's reading lists as other literary magazines embrace technology. Photograph: Graham Turner When was the last time you looked out of the window when sitting on a bus? With the internet now in the palm of our hands, it's so much a part of our daily lives that it permeates our every spare second, taking up the time and energy that we once used to read books. If the novel is struggling in this new environment, what of literary magazines?
A renaissance rooted in technology: the literary magazine returns | Books
Free internet: The librarian's tale
Steve Jobs and "the bicycle for the mind"
I enjoyed this extensive interview with John Sculley about his time at Apple (he was CEO from 83-93) because of 1) his insight into Steve Jobs' way of thinking, 2) his willingness to talk about his mistakes, and 3) his insights about business in general...he gives Jobs a lot of credit but Sculley is clearly no slouch.
Blog Archive Copyright is killing sound archiving and fair use isnt doing so well either
Fair Use poster image by Timothy Vollmer
10 Online Slang Dictionaries To Learn Jargon & Street Language
US Library of Congress: Copyright Is Destroying Historic Audio
mental_floss Blog Digital Records Are Fading Fast
University Assigns Freshmen "Personal Librarians"
Academia tests crowd-sourcing
opens nation's first bookless library on a university campus
A library without the books
Applying "ownership" to links, public domain material does more harm than good
Code of Ethics
Common as Air: Revolution, Art, and Ownership
Technology Review: The Death of Libraries?
The Medium - What Fact-Checking Means Online
A Library Primer by John Cotton Dana
Is Information a Commodity?
More People Getting DVDs From Library Than From Netflix Or Redbox
Top 7 Semantic Search Engines As An Alternative To Google
Repositories Support Project
Everything you need to know about the internet | Technology | The Observer
Home - American Library Association
Gallery: Digitizing the past and present at the Library of Congress
And Data for All: Why Obama's Geeky New CIO Wants to Put All Gov't Info Online
The Coming Data Explosion
Marian the Cybrarian - Advice