Gestion des références
Gérer ses favoris en ligne. Un article de Wiki URFIST. pearltree [modifier] fiches [modifier] objectifs.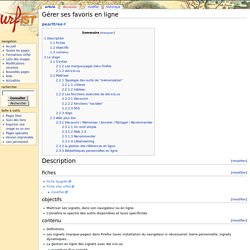 Gérer ses favoris avec Diigo | TICE à l'école. Après avoir essayé Delicious et bookmark.fr sans grande conviction et sans grand intérêt pour moi, si ce n'est d'avoir un endroit où poser (plus que ranger) mes favoris, @vpaillas m'a fait découvrir Diigo , un outil de gestion de favoris très complet.
Un outil de plus? Oui, mais il me permet enfin de faire ce que je voulais faire depuis longtemps avec tous les sites intéressants rencontrés sur le Web. 1/ la création du compte Diigo: Comparison of reference management software. The following tables compare reference management software.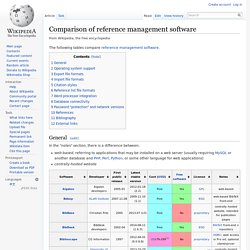 General[edit] In the "notes" section, there is a difference between: Operating system support[edit] In the case of web applications, this describes the server OS.
---