Languages
On Depth of Word Knowledge : Under the Hood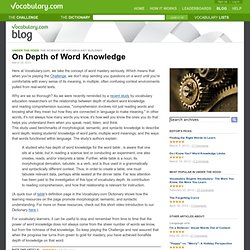 Here at Vocabulary.com, we take the concept of word mastery seriously. Which means that when you're playing the Challenge, we don't stop sending you questions on a word until you're comfortable with every sense of its meaning, in multiple, often confusing context environments pulled from real-world texts. Why are we so thorough? As we were recently reminded by a recent study by vocabulary education researchers on the relationship between depth of student word knowledge and reading comprehension success, "comprehension involves not just reading words and knowing what they mean but how they are connected in language to make meaning." In other words, it's not always how many words you know, it's how well you know the ones you do that helps you understand them when you speak, read, listen, and think.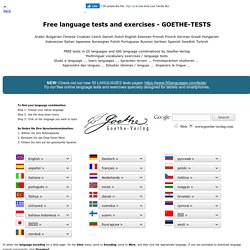 GOETHE-TESTS Arabic Bulgarian Chinese Croatian Czech Danish Dutch English Estonian Finnish French German Greek Hungarian Indonesian Italian Japanese Norwegian Polish Portuguese Russian Serbian Spanish Swedish Turkish FREE tests in 25 languages and 600 language combinations by Goethe-Verlag Multilingual vocabulary exercises / language tests Study a language ... learn languages ... Sprachen lernen ... Fremdsprachen studieren ...Apprendre des langues ... Estudiar idiomas / lenguas ...
Qu'est-ce qu'un dictionnaire? Un dictionnaire est un ensemble de mots et expressions dans une ou plusieurs langues comprenant des définitions, prononciations et autres informations. Les dictionnaires bilingues contiennent également des mots dans une langue avec leurs équivalents dans une autre langue.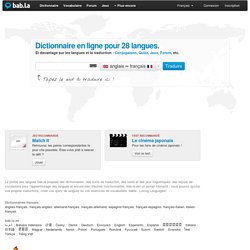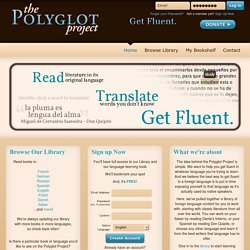 The idea behind the Polyglot Project is simple. We want to help you get fluent in whatever language you're trying to learn. And we believe the best way to get fluent in a foreign language is to put in time exposing yourself to that language as it's actually used by native speakers. Here, we've pulled together a library of foreign language content for you to work with, starting with classic literature from all over the world. You can work on your Italian by reading Dante's Inferno, or your Spanish by reading Don Quijote, or choose any other language and learn it from the best writers that language has to offer. Dive in to the library to start learning