Webdesign, HTML5
Exposition Monet 2010 - RMN - Grand Palais - Paris
Adobe Wallaby : conversion Flash vers HTML - Toute l'actualité sur L'Informaticien
Dossier - Où en est le HTML5 ?
Petite histoire et promesses d'une évolution majeure du Web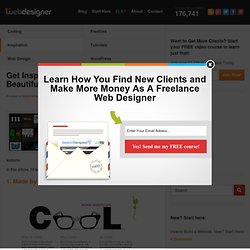 Get Inspired: 40+ Websites with Beautiful Typography
Typography has really set a great trend this 2010. Experimenting with the right choice of font, splashing with bold or plain colors, and designing it in different perspective are elements that works on typography. It uses on logo, poster, and websites.