Webdesign, HTML5
Accueil. Exposition Monet 2010 - RMN - Grand Palais - Paris. Adobe Wallaby : conversion Flash vers HTML - Toute l'actualité sur L'Informaticien. HTML5 ADVENTURE CALENDAR. Destinations, le webdocumentaire du ministère des Affaires étrangères et européennes | Prochainement... Dossier - Où en est le HTML5 ? Petite histoire et promesses d'une évolution majeure du Web Dossier HTML5 - Plus de 10 ans après la publication de la norme HTML4, son successeur HTML5 promet de révolutionner notre usage du Web.
Rétrospective et tour des attentes avec Tristan Nitot, président de Mozilla Europe et Daniel Glazman, cochairman du groupe de travail CSS au W3C.Lire l'article (volet 1) Une nouvelle porte pour les applications riches sur le Web. Get Inspired: 40+ Websites with Beautiful Typography. Typography has really set a great trend this 2010.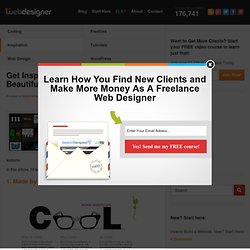 Experimenting with the right choice of font, splashing with bold or plain colors, and designing it in different perspective are elements that works on typography. It uses on logo, poster, and websites. The Center for Public Integrity.
---