Hair Styles
Get flash to fully experience Pearltrees
Here's a brand new, extra magical hair how-to by Katie of Skunkboy . 1.Start with a dramatic side part. 2.
We women adore fashion and style. Fashion comes in clothes, shoes, makeup, fancy accessories, styles the way we carry things and hairstyles. We enjoy dressing up, getting ready and styling our hair.
I am sometimes asked how I style my hair, and while my method is far from perfect, I thought I'd show you how!
photo: justin coit for thebeautydepartment.com post designed by kristin ess Our email box is literally flooded with requests for updos so here's a fun one to get us all going!
Are you in need of some hair inspiration for all your holiday happenings this year?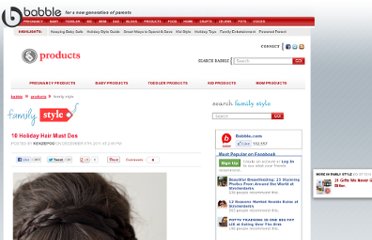 The cascade braid recently exploded as the new "trend braid" of the season. The waterfall effect looks cool and complex, but it's easier to style than you think. Give this beautiful braid a try when Beautylish takes you through the how-to!
Last month I did a makeover story with Kelsie and had many requests for a maiden braid tutorial.