CrEaTiVe bLoGs
Philipp Poisel - Eiserner Steg (Klavier Version) - Offizielles Video
:: karen hofstetter ::
Vice-President, Account Group, Partner With Sid Lee since 2006 and having a passion for digital communications and content. The branded content produced by his team far surpasses the limits of traditional methods of communication. Stephane is in charge of the branded content for the whole Sid lee offices.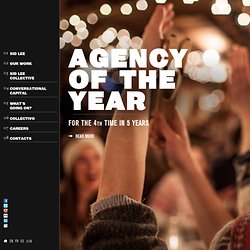 Do you work in a job where the clientele keep taking your pens? They pick it up to sign something and suddenly the pen has disappeared into oblivion. Bermuda Triangle?
Fluffy Flowers: Flower Pen Tutorial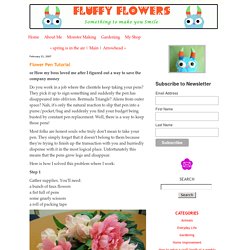 What better way to enjoy Easter than to have friends or family over for dinner and if you are doing just that – maybe you need some inspiration on how you can set the table? This time I have focused on natural hues and used elements like eggs, twigs and bunnies instead of colors like yellow and green, which is very normal for Easter. Find a drawing of a bunny on the web or draw one yourself. Print it out or draw it on the paper you´d like to use, or use it as a template.
BLOG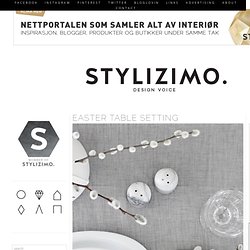 Brain's Fairy Aiding Inventions - Samantha Bryan » Home
After working on it for a couple of weeks, I am so incredibly excited to say that I have rebranded my Vol25 Digital Eye Candy shop! Here is my new shiny logo: I have it shown in a few different formats, because different circumstances will call for variations of the logo... but it is so nice to finally have it finished.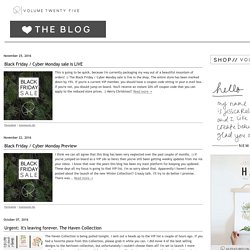 vol.25
Do Something Pretty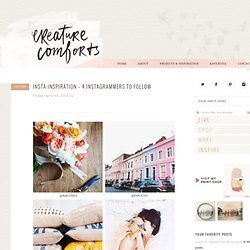 Yesterday my inbox was filled with the loveliest email that came all the way from Cape Town, South Africa, from the wonderfully talented food photographer + stylish Nadine Greeff. Nadine recently shot a beautiful Easter-inspired session that I absolutely love and she has generously allowed me to share it with you all here today. Aren't these rich jewel tones just deliciously unexpected and positively divine?! I can't get enough! Did you already spot Nadine's great DIY idea in that top photo? If yes, then you get a gold star!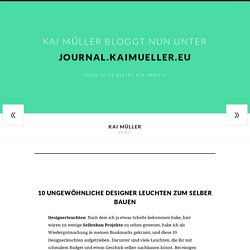 Designerleuchten: Nach dem ich ja etwas Schelte bekommen habe, hier wären zu wenige Selbstbau Projekte zu sehen gewesen, habe ich als Wiedergutmachung in meinen Bookmarks gekramt, und diese 10 Designerleuchten aufgetrieben. Darunter sind viele Leuchten, die ihr mit schmalem Budget und etwas Geschick selber nachbauen könnt. Bei einigen der "Designerleuchten" (ich mag dieses Wort irgendwie nicht) gibt es konkrete Bauanleitungen, andere sind eher als Inspiration gedacht. Designerleuchte "MilkyWay" Alexander Reh zeigt auf seiner Seite eine hübsche Variante einer "Designerleuchte" im Kronleuchter-Style.
10 ungewöhnliche Designer Leuchten zum selber bauen - StyleSpion
The Making - Our Project Artists
The Making recruits professional artists based on their skills and experience to help deliver many of its programmes and activities. If you are interested in working with us or finding out more about any of our featured project artists please contact Simon Taylor or Jenny Bethell Tom Barnett Ceramics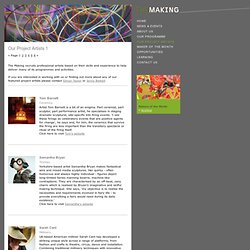 Grapefruit and Lemon Salt Scrub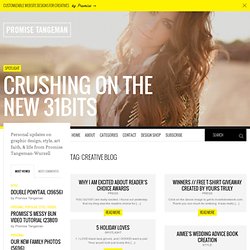 My name is Promise Tangeman-Wurzell and I am currently located in the LA area with my husband Brian and our puppy son, Parker. I am the founder and art director of Promise Tangeman Creative, a boutique graphic and web design studio for creative businesses, and also the founder and designer of SiteHouse Designs, a web design shop offering completely customizable website themes thanks to a drag and drop web creating software, called Showit. In 2012, I stepped out to create a workshop for creative business owners called GO LIVE.
PROMISE TANGEMAN ART & DESIGN | Tag Archive | creative blog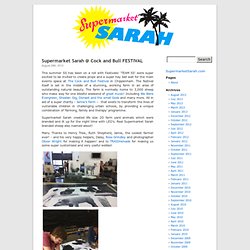 Supermarket Sarah
Supermarket Sarah @ Cock and Bull FESTIVAL August 29th, 2013 This summer SS has been on a roll with Festivals! 'TEAM SS' were super excited to be invited to create props and a super hay bail wall for the main events space at The Cock and Bull Festival in Chippenham. The festival itself is set in the middle of a stunning, working farm in an area of outstanding natural beauty.
I rarely do an inspiration Monday on a specific item but I just couldn't help myself with this one. Sometimes you just need that starting point, a spark to to ignite your inspiration, and a simple bottle cap can be just that. Bottle Cap jewelry has been trending for several years now and continues to grow in popularity. Why is this? Many reasons come to mind, but personally I think it's because bottle caps are fun, they are a casual take on jewelry design, light in spirit and smile-inducing.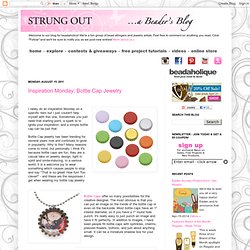 Strung Out: Inspiration Monday: Bottle Cap Jewelry
artverwandt
Owing to its beautiful coat and bushy tail, which can be fiery red, steely gray or snow-white, the fox has held a special place in our hearts since time immemorial as a beautiful and mysterious woodland creature. These 22 pictures will make you fall in love with the fox all over again. The common red woodland fox that most of us know certainly is beautiful, but this cunning creature has managed to adapt to diverse climates throughout the world – the fennec fox of the Sahara desert and kit fox in the southwest U.S. both sport larger ears that help them stay cool in the desert, while the arctic fox has a thick and snow-white insulated coat and small ears that help it retain its body heat. The fox is a member of the canidae family, which also includes dogs, wolves and other similar animals.
Pillow! I started with one of my old t-shirts, cutting 1 1/2 in wide strips from it. Using the longest stitch, I sewed right down the middle of each strip. I ruffled each strip by pulling the bottom thread and easing the gathering along the thread. This takes a while so I sat and watched a couple of episodes of Veronica Mars while I did it.
Oh So Crafty
Dana´s Fashion Blog Mode Blog Trends, Fashion- und Mode-Styling-Tipps, DIY Tutorials