Crochet
Rinatsu aka me just moved to a new blog and you can find this blog post right here: http://rinatsu.blogspot.com/2011/01/diy-beautiful-shawl.html Nothing has changed, Rinatsu is still the same just location is a little different. Be sure to subscribe to my new but still the same blog!!! http://rinatsu.blogspot.com/ Also follow me on Twitter: http://twitter.com/RinatsuChanAnd like my Facebook page: http://facebook.com/RinatsuOfficial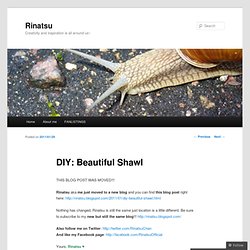 DIY: Beautiful Shawl | Rinatsu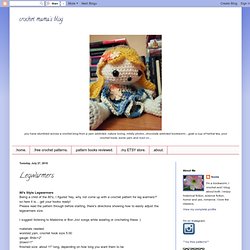 80's Style Legwarmers Being a child of the 80's, I figured 'hey, why not come up with a crochet pattern for leg warmers?' so here it is....get your hooks ready! Please read the pattern through before starting, there's directions showing how to easily adjust the legwarmers size. I suggest listening to Madonna or Bon Jovi songs while wearing or crocheting these :) materials needed: worsted yarn, crochet hook size 5.00 gauge: 6hdc=2" 2rows=1" finished size: about 11" long, depending on how long you want them to be Make 2: row 1: ch 42 (for adults) ch36 (for kids), sc in next 4 sts, hdc to last 4 sts, sc in last 4 sts, ch 1 turn working in Back Loops Only from now on: row 2: sc in next 4 sts, hdc to last 4 sts, sc in last 4 sts, ch 1 turn rows 3-?
crochet mama's blog: Legwarmers
DROPS BABYALPACA SILK UNI COLOUR (50g) 6.85 USD DROPS 152-155 are now available in the stores for $2 per catalog – no yarn purchase required! The catalogs are printed in a limited edition, so visit your local DROPS store today! Find the DROPS Spring & Summer 2014 Collection here! The DROPS knitting and crochet experts are also working full time making new tutorial videos for this new collection! The videos show how to work the techniques used on the patterns.
Crochet DROPS shawl with dc-groups in "BabyAlpaca Silk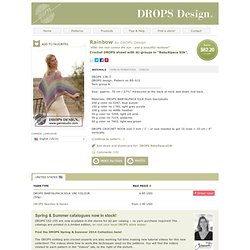 Crochet a 'stache mask with Jessica Polka's crafty yarn moustache craft. Adapted from The Inspirational Moustache, edited by Ziggy Hanaor, published by Cicada Books. Images by Jessica Polk. Materials: – Size G crochet hook (4.25mm) – Worsted weight yarn – Yarn needle Skills Needed: – Chain – Slip – Single crochet – Increase – Decrease – Double crochet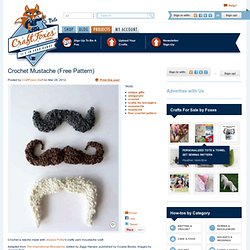 Crochet Mustache (Free Pattern) - Craftfoxes
See my written pattern with some photos using 2 strands of Caron Simply Soft and a J Hook HERE. I am always cold. Especially when it's cold and windy. But sometimes I don't want to wear a hat because I don't want to mess up my hair. I like hoods.
Sinduction's Patterns: Fully Custom Hooded Scarf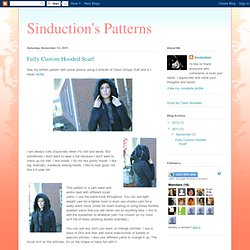 Back View Scarves are probably the first projects a beginner crocheter would take up. It would give them lot of practice in working the stitches while making something useful.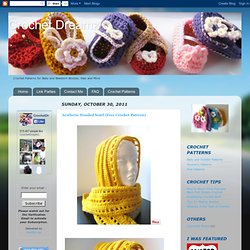 Crochet Dreamz: Aesthetic Hooded Scarf (Free Crochet Pattern)
...so I came across a lovely pattern on www.ravelry.com that included using, what they called, the Crocodile Stitch. Firstly, I have no problem paying for a pattern that someone has created and posted on the internet. I have no problem paying for an item that I don't want to make myself, from the internet. BUT, I don't think there is any reason to have to pay to learn a stitch. ONE STINKING STITCH!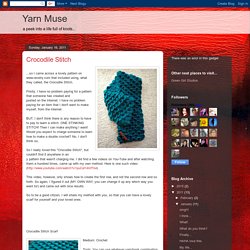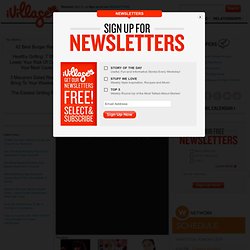 Welcome! Sign In, or Sign up for our NEWSLETTERS Sunday, Apr 06 Top Stories
Alice Springs Beanie Festival
Welcome to the Alice Springs Beanie Festival. One of the worlds' most unique festivals. A four day event held in the heart of Australia bringing together over 6000 original handmade beanies (woolly hats) from around the world. We celebrate outrageous headgear and promise a heart-warming, soul enriching experience full of colour and joy.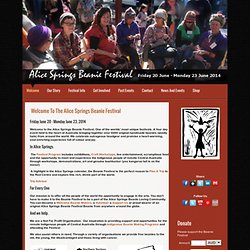 Welcome to Crochet Pattern Central--an often updated online directory featuring precisely 19,691 links to free crochet patterns and tutorials. Choose from 90+ categories, including clothing, afghans, doilies, baby items, bags and totes, potholders, toys, stuffed animals (including amigurumi), and so much more. Begin browsing by category at the Free Crochet Pattern Directory or by keyword using CPC's site search feature: