Ie
PIE makes Internet Explorer 6-9 capable of rendering several of the most useful CSS3 decoration features. Learn More This quick demo shows just a few of the CSS3 properties PIE can render. Use the controls to adjust the CSS3 applied to the box. Load this page in IE to see that it is rendered properly! Mmmmm, pie.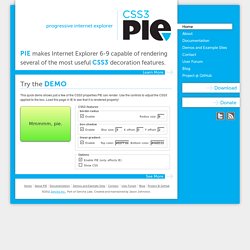 Purpose The Internet Explorer 10 Guide for Developers provides a look at the developer features included in Internet Explorer 10, as well as the latest HTML5, JavaScript, and Cascading Style Sheets, Level 3 (CSS3) features available to developers of Windows Store apps using JavaScript for Windows 8. By using the documentation and samples in this guide, developers and designers can take full advantage of these new features. Important The contents of this guide apply to both Internet Explorer 10 and Windows Store apps using JavaScript for Windows 8, except where noted.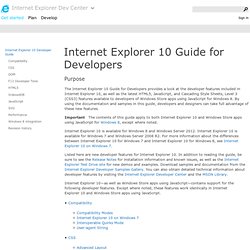 Internet Explorer 10 Platform Preview: About
Internet Explorer, this current pain in the… code for designers nowadays, had its days of glory a long time ago, when IE6 was launched, cause at that time, believe it or not, IE6 was a top notch browser. With time, things have changed and changed dramatically, Internet Explorer having to face an incredible load of hate directed to itself, especially coming from web designers and developers. Not even the release of IE7, IE8 or even IE9 didn't make much of a difference cause every time a new version came, it was still behind with the existing web technology. Other browsers have problems too with certain features, but Internet Explorer bites the dust when it's compared with any other serious browser, you just have to name it Firefox, Safari, Chrome or Opera.
Internet Explorer In A Web Designer's Life – Problems And Solutions | Design your way