Organized for my specific desires
Fashun. Microvolunteering. Unexplained Mysteries - Paranormal Phenomena and the World's Greatest Unexplained Mysteries. Weirdness. Art and Crafting. Games. Shoppin. Moderately Humorous. TV and Music. Places of Interest. Others. Communities. News. ABOUT. What is the Global Illumination Council?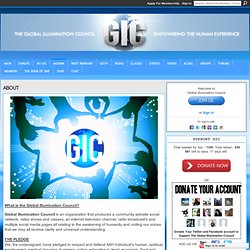 Global Illumination Council is an organization that produces a community website social network, video shows and classes, an internet television channel, radio broadcast's and multiple social media pages all relating to the awakening of humanity and uniting our voices that we may all receive clarity and universal understanding. THE PLEDGE We, the undersigned, have pledged to respect and defend ANY individual's human, spiritual, employment, medical, housing, business, voting, educational, legal, economic, food and sustenance rights, including, the right to a healthy and thriving planet, the well being of all wild and domesticated animals, plants and insects, our natural resources and the general well being of all aspects of our Universe.
We will act in kindness to all humans and all life itself. Vaniquotes. Geeks of Doom: Your place for all things Geek! The Escapist. The Apples of Apollo: Pagan and Christian Mysteries of the Eucharist by Carl A.P. Ruck - Reviews, Discussion, Bookclubs, Lists.
---