Organize
Boundaries, Custom Styles, Dropbox and Evernote. The Simplest Filing System in the World - Paper Tiger. SharePoint | Collaboration Software for the Enterprise. SharePoint Online With Office 365, SharePoint offers enhanced security technologies, is easy to manage, and can be accessed from almost anywhere.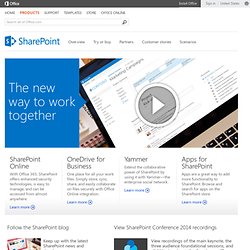 OneDrive for Business One place for all your work files. Simply store, sync, share, and easily collaborate on files securely with Office Online integration. Yammer. Cooliris | Media browser plug-in, mobile app, gallery builder. Moodle.org: open-source community-based tools for learning. AZZ Cardfile software: free form Personal Info Manager for Windows OS. EssentialPIM - Probably the Best Personal Information Manager. Dashboard Everything. Visualizing Social Networks: A Graph Visualization Case Stud. 7 Sites That Can Help You Deal With Information Overload. In the past, this was done by keywords.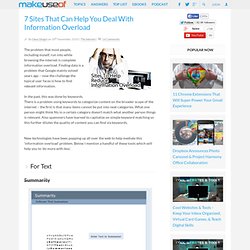 There is a problem using keywords to categorize content on the broader scope of the internet – the first is that many items cannot be put into neat categories. What one person might think fits in a certain category doesn't match what another person things is relevant. Also spammers have learned to capitalize on simple keyword matching so this further dilutes the quality of content you can find via keywords.
New technologies have been popping up all over the web to help mediate this 'information overload' problem. Below I mention a handful of these tools which will help you to 'do more with less'. Evernote. Diigo - Web Highlighter and Sticky Notes, Online Bookmarking and Annotation, Personal Learning Network. Flock.
---