Online Lists
Turn Your Keychain into a Pocketable Toolbox
Robot For President YouTube - Hitler Banned From iSketch!Content Aware Image Resizing (found by J-Roen)SeaDragon @ TEDThe Bad Signage PoolDice StackingFantoche (2 times)RENT - online auditionsPolo without the horse3d motion portraitFruit VesselMonkey Loves PigeonJessica the Pet Hippo (found by Julia)Treadmill MadnessBending LightSleeping Concert In SpainPartial Face TransplantsCop riding Segway runs down suspectcolor matching coffee cupSão Paulo No Logosuper fun happy slide Daft HandsCrowd FarmzZzBabies Eating LemonsType the SkyScreaming BeansVisible Only Through a Digital CameraWalk it Out (found by Lauren)Inmate ThrillerThe Moment the Tallest Man Met the Shortest ManDavid Shrigley Music VideoBrain CloudPictures at Right Angles (found by Doodles)The New Internet HeroLaughing Yoga 2Jed MovieThe WindApneeTypography ToysLetter of the Day (found by Paul Drew)Origins of Punctuation Marks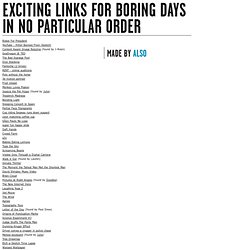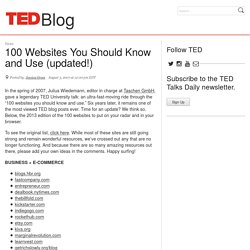 Entertainment Meet David Peterson, who developed Dothraki for Game of Thrones There are seven different words in Dothraki for striking another person with a sword.
5 Unique and Interesting Websites
06 Apr 2014 The 101 Most Useful Websites on the Internet is a frequently updated list of lesser-known but wonderful websites and cool web apps. couch mode print story Here are some of the most useful websites on the internet that you may now know about. These web sites, well most of them, solve at least one problem really well and they all have simple web addresses (URLs) that you can memorize thus saving you a trip to Google.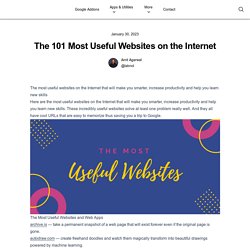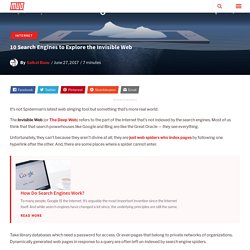 The Invisible Web refers to the part of the WWW that's not indexed by the search engines. Most of us think that that search powerhouses like Google and Bing are like the Great Oracle"¦they see everything. Unfortunately, they can't because they aren't divine at all; they are just web spiders who index pages by following one hyperlink after the other. But there are some places where a spider cannot enter. Take library databases which need a password for access. Or even pages that belong to private networks of organizations. These days you can find all sorts of things online, from audio books to flash files, from sound effects to CSS templates. Below we compiled a list with over 100 download sites that serve that purpose. We will also try to keep the list updated, so if your favorite download site is not here, let us know about it with a comment.
The Best Free Software of 2009 - App Launchers