Discover & Mixes & Radios
Daytrotter: The source for new music from the best emerging bands. PureVolume™ | We're Listening To You. Jukesy - music player powered by youtube and last.fm. Music Downloads, MP3 Downloads, MP3 songs from eMusic.com. 100 legal sites to stream and download free music | MerryCode.
Music is life, I never found anyone who's life isn't influenced by Music.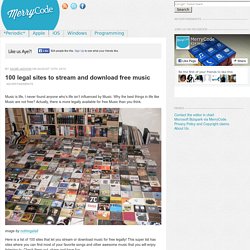 Why the best things in life like Music are not free? Actually, there is more legally available for free Music than you think. 99% Music Mix - Work at a Different Speed. Songza - Listen to Music Curated by Music Experts. LessonSix - Wordsmiths: A Collection of Music to Write to. Free Music with Neverending Playlist. Best Indie/Rock Playlists, Music Blog, Top New Songs, Album Reviews, Videos, Free Mp3s, Top Releases, Popular Bands, Mixes.
Said the Gramophone - an mp3 blog. Music-Map - The tourist map of music. Search. TuneGlue° | Relationship Explorer. Home – Last.fm.
Radios. Music Roamer. Discovering Music in 2009: The New Tools. One Track Mind. Songs to lie on your bed and stare at the ceiling to | lytebryte25 | 8tracks. Music to use. The Mixfiles. The Hype Machine. Shuffler.
---