Cars
Pininfarina Sergio - Own. For decades, Pininfarina's been designing some of the most exotic car shapes in the world for carmakers like Ferrari, Maserati, Cadillac, and Alfa Romeo; to commemorate the 2012 passing of their patriarch, they've just dropped the eponymous Sergio, in which they chopped a perfectly fine Ferrari 458 Italia (which they designed), and turned it into... this: Italians have a rep for being a passionate people, so it should come as no surprise that they describe the car as being a 1960s throwback that has a "bulging and sensual" front that's "penetrating into a rear that is projected forward"; the pieces that serve a specific aerodynamic purpose are left black, while the rest -- the fenders and doors, etc. -- are painted red, which probably bugs the crap outta Mick Jagger.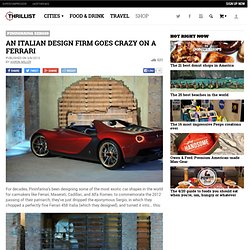 The 2013 Geneva International Motor Show - Own. For over 100yrs, the Geneva International Motor Show has been a place for manufacturers to drop their newest and greatest creations.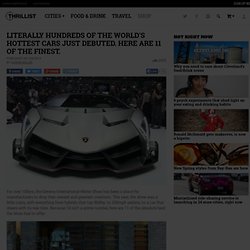 This year, the show was a little crazy, with everything from hybrids that top 900hp, to 200mph sedans, to a car that steers with its rear tires. Because 10 isn't a prime number, here are 11 of the absolute best the show had to offer: Pininfarina Sergio To commemorate the 2012 passing of their patriarch, Italian design firm Pininfarina just dropped the eponymous Sergio, in which they chopped a perfectly fine Ferrari 458 Italia (which they designed), and turned it into... this.
Mercedes-Benz-17.jpg (1680×1050) Audi Urban Concept says less is more. Is less really more?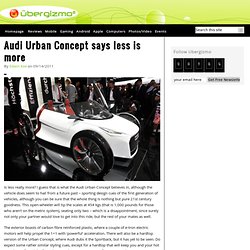 I guess that is what the Audi Urban Concept believes in, although the vehicle does seem to hail from a future past – sporting design cues of the first generation of vehicles, although you can be sure that the whole thing is nothing but pure 21st century goodness. This open-wheeler will tip the scales at 454 kgs (that is 1,000 pounds for those who aren't on the metric system), seating only two – which is a disappointment, since surely not only your partner would love to get into this ride, but the rest of your mates as well.
The exterior boasts of carbon fibre reinforced plastic, where a couple of e-tron electric motors will help propel the 1+1 with 'powerful' acceleration. There will also be a hardtop version of the Urban Concept, where Audi dubs it the Sportback, but it has yet to be seen. Do expect some rather similar styling cues, except for a hardtop that will keep you and your hot new date safe and dry from the rain whenever you go out for a spin on this. Aspid GT-21 Invictus. With distinctive looks, plenty of power, and limited-production cred, the Aspid GT-21 Invictus ($TBA) is one of the best cars to emerge from Spain in recent memory.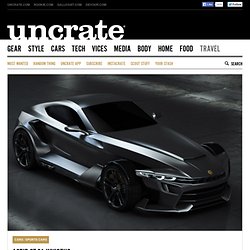 Powered by a BMW-sourced, 450hp 4.4-liter V8 engine, it uses a seven-speed dual-clutch or six-speed manual gearbox to move you and its lightweight, 2,182 pound self from 0-62 mph in under three seconds, on your way to a top speed of 187. Other features include composite body panels, a spaceframe chassis, 2+2 seating, and a guaranteed limit on production of just 250 units a year — so if you're interested, best get moving.
100+ Jaw Dropping Concept Cars - CoolVibe - Digital Art, Wallpapers, Inspiration. 15 Classic Cars That Define Cool. This post is brought to you by NEW Armor All Extreme Shield Wax.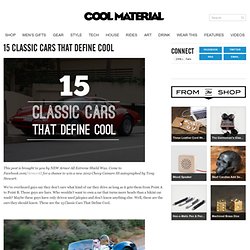 Come to Facebook.com/ArmorAll for a chance to win a new 2012 Chevy Camaro SS autographed by Tony Stewart. We've overheard guys say they don't care what kind of car they drive as long as it gets them from Point A to Point B. Those guys are liars. Who wouldn't want to own a car that turns more heads than a bikini car wash? 1939 Rolls-Royce Phantom III Cabriolet. 1939 Rolls-Royce Phantom III Cabriolet In a world of plastic cars with hybrid heartbeats, the joy of driving is a dying art.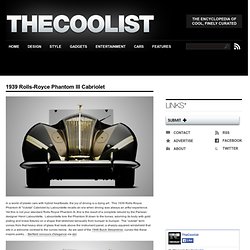 This 1939 Rolls-Royce Phantom III "Vutotal" Cabriolet by Labourdette recalls an era when driving was always an artful experience. Yet this is not your standard Rolls Royce Phantom III, this is the result of a complete rebuild by the Parisian designer Henri Labourdette. Labourdette tore the Phantom III down to the bones, adorning its body with gold plating and brass fixtures on a shape that stretched sensually from bumper to bumper. The "vutotal" term comes from that heavy slice of glass that rests above the instrument panel, a sharply-squared windshield that sits in a welcome contrast to the curves below. 2012 Aston Martin Virage Coupe. 2012 Aston Martin Virage Coupe Aston Martin has taken the virtual wraps off of its 2012 Aston Martin Virage Coupe, a roadster they'll be revealing in the flesh at the Geneva Motor Show this week.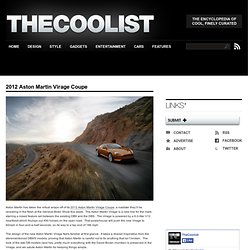 The Aston Martin Virage is a new line for the mark, starring a mixed feature set between the existing DB9 and the DBS. The Virage is powered by a 6.0-liter V12 heartbeat which thumps out 490 horses on the open road. That powerhouse will push the new Virage to 60mph in four-and-a-half seconds, on its way to a top end of 186 mph. The design of the new Aston Martin Virage feels familiar at first glance. 2012 Porsche Boxter S Black Edition. 2012 Porsche Boxter S Black Edition The 2012 Porsche Boxter S Black Edition is a shining example of when budget goes bad ass.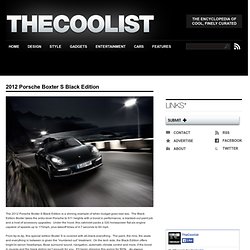 The Black Edition Boxter takes the entry-level Porsche to 911 heights with a boost in performance, a blacked-out paint job and a host of accessory upgrades. Under the hood, this cabriolet packs a 320 horsepower flat-six engine capable of speeds up to 170mph, plus takeoff times of 4.7 seconds to 60 mph. 2015 Lotus Elise Concept. 2015 Lotus Elise Concept The new 2015 Lotus Elise Concept joins the rest of the field today at the 2010 Paris Motor Show.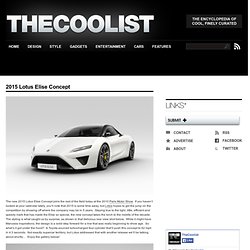 If you haven't looked at your calendar lately, you'll note that 2015 is some time away, but Lotus hopes to get the jump on the competition by showing off where the company may be in 5 years. Staying true to the light, little, efficient and speedy mark that has made the Elise so special, the new concept takes the torch to the middle of the decade. Alfa Romeo 8C: A Day In The Life. Alfa Romeo 8C: A Day In The Life In a flash, all 90 of the Alfa Romeo 8C Competiziones shipped to the United States market were gone, snapped up by wealthy car collectors.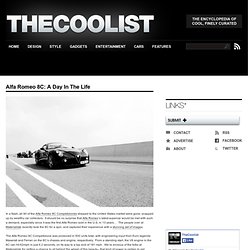 It should be no surprise that Alfa Romeo's latest supercar would be met with such a demand, especially since it was the first Alfa Romeo sold in the U.S. in 13 years… The people over at Materialiste recently took the 8C for a spin, and captured their experience with a stunning set of images. The Alfa Romeo 8C Competizione was produced in 500 units total, with engineering input from Euro legends Maserati and Ferrari on the 8C's chassis and engine, respectively.
Aston Martin Reverie. Media design studio Scholar has created this Aston Martin Reverie video to... well... prove that it could be done. And the result is amazing. Here is the story behind it. The Film The Work. BMW Vision Connected Drive Concept. BMW Vision Connected Drive Concept BMW has released a new Vision concept car, taking the torch from the BMW Vision Efficient Dynamics concept with clear inspiration from the world of Tron. The new BMW Vision Connected Drive Concept is yet another bold step forward for BMW concept styling, a design with a clear departure from BMW bread and butter. The classic BMW grille and logo are present, but the rest of the design is more curvy, aggressive and downright dangerous when compared to the familiar standard. The BMW Vision Connected Drive Concept feels like it was designed in the world of Tron Legacy, featuring inset lights between sections of the body and wrapped within the interior as well.
That interior is heavy with tech, with a dedicated visual console for the passenger and a heads up display system for the driver. Bugatti Veyron by Mansory Linea Vincero d'Oro. Bugatti Veyron by Mansory Linea Vincero d'Oro Looking to add another million or two to the already unreal price of the Bugatti Veyron? Look no further than Mansory, who has given the Veyron the Midas touch. The Mansory Linea Vincero d'Oro version of the Bugatti Veyron adds a carbon fiber aerodynamics kit and gold details on the grille, the tires, the door handles and gas tank. The interior is equally accented in gold color, but the rest of this beast is all Bugatti.
Bugatti_renaissance_concept_images_001.jpg (JPEG Image, 1280x828 pixels) - Scaled (83%) Cadillac Ciel, The past of the Future? Last week, Cadillac revealed their new concept car the Cadillac Ciel. It is an absolutely looker, but it is also one those strange cars that defies definition. Is it a relic of voluminous shapes of the past, or is a look in the future?
Concept Cars: Futuristic and Eco-Friendly. Concept Cars: Futuristic and Eco-Friendly According to Motor Trend, the automotive landscape in this country is going to change profoundly over the next decade. With these changes come strict fuel-consumption regulations. As the price of gas inevitably increases, the government will be strongly encouraging consumers to buy more fuel-efficient vehicles. Car companies are quickly coming out with ideas to keep their brands at the forefront of the ever-growing auto industry. Electric Raceabout Electric Sports Car. Ferrari 612 GTO Concept. Fisker Karma Production Model Coming to Paris. Ford Evo - Oh My God! Hack Your Ride: Cheat Codes and Workarounds for Your Car's Tech Annoyances. Heynsdyk 2500 SF Sports Car. How to Improve Your Night Driving. James Bond Aston Martin DB5.
Lighten Up: Ultra-Light Car Is a Commuter Compromise. Lotus Evora S Revealed. Mini Cooper Savile Row Edition. Morgan 3 Wheeler. Pagani Huayra. Rolls-Royce Apparition Concept. The Beautiful Nissan Ellure Concept Car. Volvo Concept You. Zenvo St1 Supercar Coming Stateside. « Etoiles » de Mercedes-Benz.
---