Automation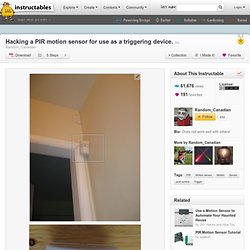 Hacking a PIR motion sensor for use as a triggering device.
If this is a used or surplus device you should check the operation before using. Remove the top cover and examine your sensor. My sensor uses a 12 V DC supply for operation.
Berkeley Ridiculously Automated Dorm (BRAD)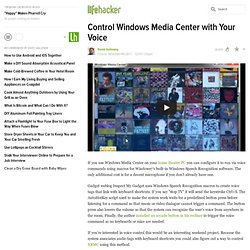 I don't know if you've noticed, but a lot of Lifehacker's articles (Gawker in general really), typically re-publish a lot of articles (in full or in part), and there's always a link at the bottom of the article. I think most Lifehacker readers know where to find this information if they're interested. I'm basically talking the reverse.
Control Windows Media Center with Your Voice
DIY Voice Activated Home Automation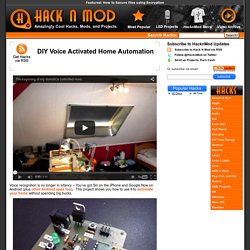 Voice recognition is no longer in infancy – You've got Siri on the iPhone and Google Now on Android (plus other Android apps too). This project shows you how to use it to automate your home without spending big bucks. The core of this project is a VRBot speech recognition module.
Voice Controlled Home Automation
Who wouldn't want a home controlled by your voice commands? If Tony Stark can have it, why can't you? The JARVIS system is a digital life-assistant/home automation system that does everything from dimming the lights to starting up the George Forman grill. JARVIS is alive and doing well inside an stand alone computer and receives commands via email, Twitter, or through voice recognition software.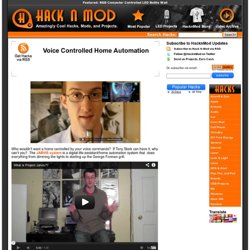 Install the Linux based OpenWRT firmware on the router. The TL-WR741ND instructions can be found here:http://wiki.openwrt.org/toh/tp-link/tl-wr741nd If you are stuck, start here: http://openwrt.org After you have a working SSH connection you can proceed. Because of the router (by default) runs the web admin page on the port 80, we need to add a secondary port to serve our custom web site.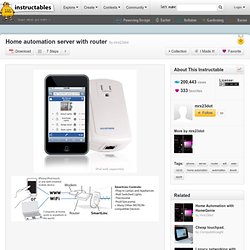 Transform Your Digs into a Home of the Future, DIY-Style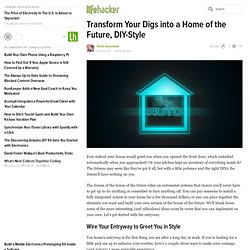 For door locks, I went with the medium-tech approach: electronic keypad locks. Schlage, for example, makes a line of electronic keypad locks that can generally fit into existing door lock holes. For me, it was a simple matter of unscrew/remove old lock, screw in/install new lock, and program new lock.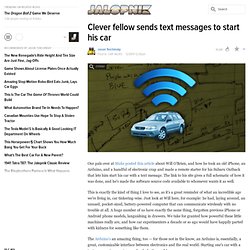 Clever fellow sends text messages to start his car
Stop it, Spiegel. You're bringing back repressed memories of earning my 5-year EE degree. Arduino has its place.
We love to automate things in our home here at Lifehacker, and it turns out that with just a router, an Arduino, and an RF switched outlet, you can control pretty much any electrical device you want from your smartphone or computer. This tutorial is courtesy of Instructable user mrx23, who turned an OpenWRT-compatible router into its own little web server that sends serial commands to an Arduino, which then controls switched RF outlets via a remote control. You can access the switch with any browser and use it to turn on and off pretty much any electrical device you want—lights, music, video game systems, or anything else lying around your house. Check out the video to see it in action, and hit the link for more detailed instructions on how to set it all up.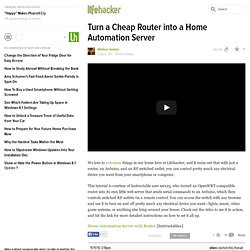 Beware of the legal requirements. I don't know what can be the regulations in the USA, but here in France there are strict norms on automatic doors, included inside private buildings like your home, so strict that I'm not quite sure that any homemade solution could possibly be acceptable. Should there be any accident with the door, or worse someone getting trapped by the door refusing to open during a fire or any kind of accident, and you would get in big problems... First of which, your home insurance would probably refuse to pay for the resulting damages.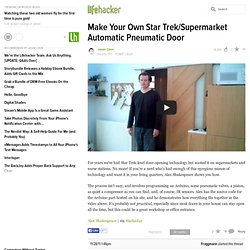 Make Your Own Star Trek/Supermarket Automatic Pneumatic Door