ARG
Electric City - Yahoo! Screen. TAP JOINT. Creators reveal secrets to 'Electric City' | Electric City - Yahoo! Screen. "Electric City"Who knew "Electric City" was a secret minireunion of "Bosom Buddies"?
Well, not quite — but the cast for Tom Hanks' animated post-apocalyptic Web series included not only Hanks himself (as square-jawed spy Cleveland Carr), but also Holland Taylor. Her character Ruth Orwell, a shadowy matriarchal power, was named after a producer's great-aunt. Taylor though associated the name with Ruth Dunbar, her role in the 1980 show starring Hanks and Peter Scolari. The comedy — about pals so desperate for affordable New York housing that they went undercover in a women-only boarding house — lasted just two seasons, long enough to be Hanks's breakout vehicle. Other fun bits of trivia emerged during a Yahoo! Famous Uncracked Codes | Electric City - Yahoo! Screen. Codes have done everything from transmitting crucial information during World War II to keeping little brother from snooping in your diary.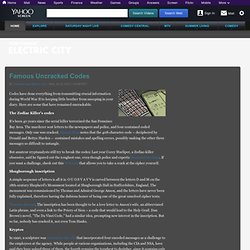 Here are some that have remained uncrackable. The Zodiac Killer's codes. Devices That Suck (Power) | Electric City - Yahoo! Screen. "Electric City" We live for gadgets.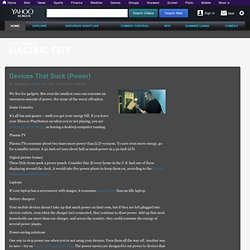 But even the smallest ones can consume an enormous amount of power. See some of the worst offenders. Game Consoles. Fun Facts About Tom Hanks | Electric City - Yahoo! Screen. Tom Hanks on "Electric City" The Oscar-winning star boasts an impressive career.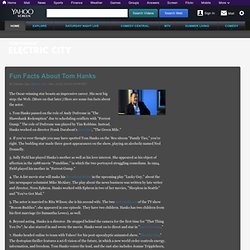 His next big step: the Web. (More on that later.) Here are some fun facts about the actor. 1. How the World Could End | Electric City - Yahoo! Screen. Predicting the end of the world has practically become a spectator sport.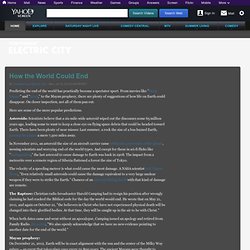 From movies like "Deep Impact" and "2012," to the Mayan prophecy, there are plenty of suggestions of how life on Earth could disappear. On closer inspection, not all of them pan out. Here are some of the more popular predictions. Asteroids: Scientists believe that a six-mile-wide asteroid wiped out the dinosaurs some 65 million years ago, leading some to want to keep a close eye on flying space debris that could be headed toward Earth.
There have been plenty of near misses: Last summer, a rock the size of a bus buzzed Earth, passing the planet a mere 7,500 miles away. Peter Weyland Delivers Stunning TED Talk…in 2023? Sometimes the journey down the rabbit hole is an interesting one.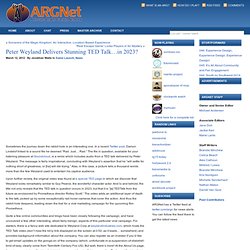 In a recent Twitter post, Damon Lindelof linked to a sound file he deemed "Rad. Just… Rad." The file in question, available for your listening pleasure at Soundcloud, is a remix which includes audio from a TED talk delivered by Peter Weyland. The message is fairly inspirational, concluding with Weyland's assertion that he "will settle for nothing short of greatness, or [he] will die trying." Alas, in this case, a picture tells a thousand words more than the few Weyland used to entertain his captive audience. ProjectPrometheus.com - Brought to you by the Weyland Corporation. Weyland Industries. ARGNet: Alternate Reality Gaming Network.
---