Alcohol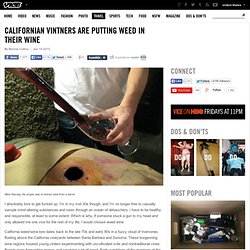 I absolutely love to get fucked up.
Californian Vintners Are Putting Weed in Their Wine | VICE United States
ABSINTHEXPLORE - Premium Absinthe Sample - Absinthes.com
Alcohol That Tastes Like Water: The Hipster Drink Of The Future?
For those who like getting drunk but dislike the taste of alcohol, Mckenzie River Corporation has created a drink for you. Called 'Air' (Alcohol Inspired Refresher), the carbonated alcoholic drink is virtually tasteless, colorless, odourless—like alcohol that tastes like water—so no one will know you're getting drunk on it. The malt-based mixture contains 4% alcohol, and also comes in berry and citrus flavors. Air will soon be available at grocery stores in San Francisco, Las Vegas, Los Angeles, Portland and Seattle at 4 can for US$6.99, and US$1.74 each. Tasteless alcohol: the hipster drink of the future? [via Drink Air ]
Store Locator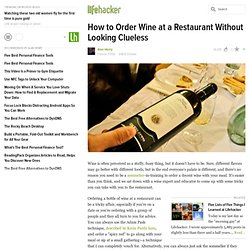 Wine is often perceived as a stuffy, fussy thing, but it doesn't have to be. Sure, different flavors may go better with different foods, but in the end everyone's palate is different, and there's no reason you need to be a sommelier -in-training to order a decent wine with your meal. It's easier than you think, and we sat down with a wine expert and educator to come up with some tricks you can take with you to the restaurant. Ordering a bottle of wine at a restaurant can be a tricky affair, especially if you're on a date or you're ordering with a group of people and they all turn to you for advice.
How to Order Wine at a Restaurant Without Looking Clueless
Open a Beer with Your Forearm
Hangover Myths, Remember People's Names, and Time-Lapse Your Next Party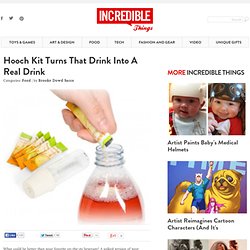 Hooch Kit Turns That Drink Into A Real Drink
What could be better than your favorite on-the-go beverage? A spiked version of your favorite on-the-go-beverage, of course. Unbearable events like plays, kiddie parties and sporting events (okay, so this is all a matter of opinion) get an upgrade when you get yourself a DIY Hooch Kit.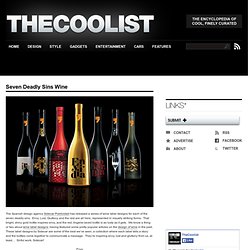 Seven Deadly Sins Wine The Spanish design agency Sidecar Publicidad has released a series of wine label designs for each of the seven deadly sins. Envy, Lust, Gluttony and the rest are all here, represented in visually striking forms.
Seven Deadly Sins Wine
Stocking a bar is a difficult task. Stocking a bar for $100 is even more difficult. Let's take a look at three different methods for gearing up your liquor cabinet for parties of various sizes on the cheap. Photo by this_could_be_my_house . Note: Now is a good time to remind everyone of the dangers of alcohol. College is definitely a time to make mistakes, but please—for the love of God—do so safely.
The Art of Beer in Atlanta: Hop City
The Art of Beer in Atlanta: Hop City Ommegang Abbey Ale – a delectable American take on the classic Abbey Dubbel of Belgium The craft beer revolution is not just alive and kicking in Atlanta, it's growing . The adherents to this revolution in Atlanta, those who truly respect and celebrate craft beer, know Hop City as a modern monument to their cause. Hop City stocks over 1,000 different bottles of beer, from American craft beers to German classics to the great imports of Belgium.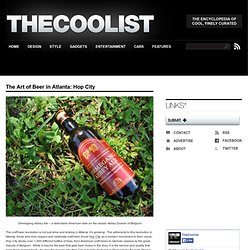 Extratasty - Get your booze on! - Drink of the day is "A Walk in the Woods" by johnsonsjunk | 03/13/11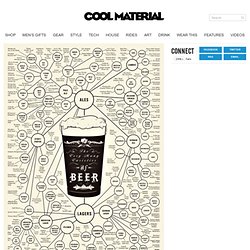 The Many Varieties of Beer Poster
Beer is like the Pavlovian trigger-word for most men. We love the stuff–truly, madly, deeply–but many of us don't know much about the object of our affection. There are many kinds of beers made many different ways with many different ingredients, and in order to be a better drinker lover, we must educate ourselves. Pop Chart Lab's Varieties of Beer poster visually lays out many of those beer varieties, how they relate to each other, and which brands we see on shelves make which kinds. Call it market research, or just something to whet your appetite, but we're convinced this is a must for any beer-loving guy, which is another way of saying for any male human.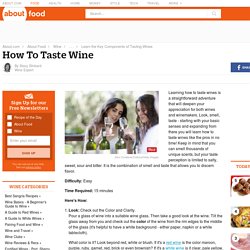 Learning how to taste wines is a straightforward adventure that will deepen your appreciation for both wines and winemakers. Look, smell, taste - starting with your basic senses and expanding from there you will learn how to taste wines like the pros in no time! Keep in mind that you can smell thousands of unique scents, but your taste perception is limited to salty, sweet, sour and bitter. It is the combination of smell and taste that allows you to discern flavor. Difficulty: Easy
The Basics of Wine Tasting
Tasting beer can be very rewarding. As you encounter new styles or brands it helps to know what to look for in a new beer as well as how to evaluate it. Take your time and work through the aspects of the brew one by one. Difficulty: Easy Time Required: Various Here's How: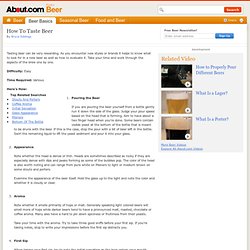 Beer Tasting - A How To Guide to Beer Tasting
The smell of young wine is called an "aroma" while a more mature wine offers a more subtle "bouquet." a In ancient Greece, a dinner host would take the first sip of wine to assure guests the wine was not poisoned, hence the phrase "drinking to one's health." "Toasting" started in ancient Rome when the Romans continued the Greek tradition but started dropping a piece of toasted bread into each wine glass to temper undesirable tastes or excessive acidity. e A "cork-tease" is someone who constantly talks about the wine he or she will open but never does. e Since wine tasting is essentially wine smelling, women tend to be better wine testers because women, particularly of reproductive ages, have a better sense of smell than men. h An Italian study argues that women who drink two glasses of wine a day have better sex than those who don't drink at all. f Red wines are red because fermentation extracts color from the grape skins.
New York City Entertainment, Food Specials, Happy Hour | barHappy
Today marks a bittersweet day for Cork'd as we announce it will wind down operations. After 1.5 years, CEO, Lindsay Ronga will move on to other opportunities. "Working with Gary and Jon marked a milestone in my career and I am so thankful for the opportunity. Who knows… at some point we may all reconnect in the future," says Lindsay.
The Virtual Absinthe Museum - Absinthe History, Literature, Art and Antiques
collection of absinthiana - a range of original artifacts documenting every aspect of the history of La Fee Verte, from its use as a medicinal elixir in ancient times, to its heyday as a fashionable aperitif in the 19th century and its prohibition at the beginning of the 20th. Here you'll find examples of the rarest and most beautiful absinthe spoons, glasses that glow green because of their uranium content, absinthe fountains, carafes and pitchers, art nouveau-style advertising cartons and posters, catalogues, invoices and ephemera from the leading absinthe distillers, books, journals and newspapers of every description, propaganda from the anti-absinthe temperance movement, and counter-propaganda from the equally passionate supporters of the Green Fairy - the whole fabled history of absinthe is here.
Unequalled expertise in absinthe and rare and ancient wines and spirits.
Absinthe...the Green Fairy...La Fée Verte....no other drink has the same romantic history - the French Impressionists....Toulouse Lautrec, Degas, Manet, Van Gogh....Paris in the Belle Epoque....the cafes of Montmartre....the muse of writers from Verlaine and Rimbaud to Joyce and Hemingway. Of course, there's a darker side to absinthe as well - no other drink has ever roused the same degree of passionate condemnation, and no other drink has ever been banned outright in the way absinthe was in the years leading up to 1915. All that remains today of this fabled era are the ghosts of the Green Fairy...absinthe antiques and absinthiana....slotted spoons for holding the sugar cube, dose-marked glasses, advertising carafes, matchstrikers or pyrogenes for the grande marques, absinthe advertising posters, manufacturers catalogues and postcards....echos of La Heure Verte a century ago. Welcome from Oxygénée Your guide to the lost world of absinthe and La Fée Verte
Absinthe at the Virtual Absinthe Museum