Geekology
Say cheese with the Polaroid Z340 instant digital camera - Digital Cameras: SLR & Compact Cameras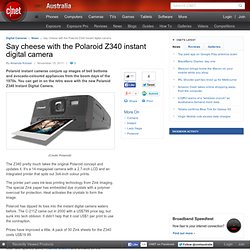 Polaroid instant cameras conjure up images of bell bottoms and avocado-coloured appliances from the boom days of the 1970s.
Tell us Your success story with LeWeb
Steve Jobs' Biography - The Colbert Report - 2011-25-10
embellit l'iPad - Vogue
space invaders by Christofle
Pour ceux qui l'auraient oublié, la Fête des Mères c'est ce week-end !
Culture G(eek) : Shopping pour Maman Geek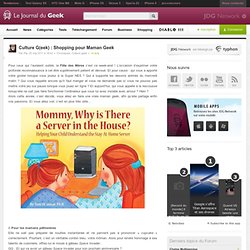 Des coussins Google pour votre salon
BBM Roulette
Geek And Poke
Hey Bro, Foursquare Will Totally Show You the Best Spots to Pick Up Desperate Chicks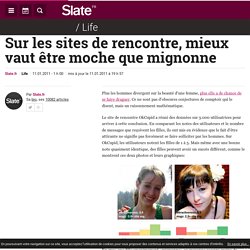 Sur les sites de rencontre, mieux vaut être moche que mignonne
Plus les hommes divergent sur la beauté d'une femme, plus elle a de chance de se faire draguer. Ce ne sont pas d'obscures conjectures de comptoir qui le disent, mais un raisonnement mathématique.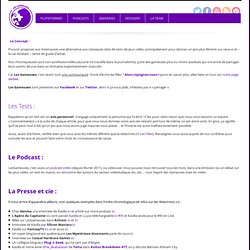 ¤Le Concept : Pouvoir proposer aux internautes une alternative aux classiques sites de tests de jeux-vidéo, principalement pour donner un avis plus féminin sur ceux-ci et – le cas échéant – servir de guide d'achat.
A propos…
L'IDRAC est une école de commerce multi-campus présente à Amiens, Bordeaux, Grenoble, Lille, Lyon, Montpellier, Nantes, Nice, Paris et Toulouse.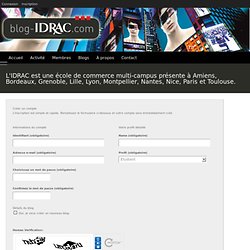 Les actualités des plus grandes marques de luxes! | MOBILE MARKETING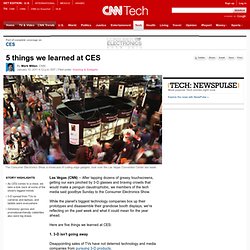 The Consumer Electronics Show, a showcase of cutting-edge gadgets, took over the Las Vegas Convention Center last week. As CES comes to a close, we take a look back at some of the show's biggest trends3-D spread from TVs to cameras and laptops, and tablets were everywhereGimmicky gizmos and promotional-friendly celebrities also were big draws Las Vegas (CNN) -- After tapping dozens of greasy touchscreens, getting our ears pinched by 3-D glasses and braving crowds that would make a penguin claustrophobic, we members of the tech media said goodbye Sunday to the Consumer Electronics Show.
5 things we learned at CES
Tristan: vous avez essayé de vous c
Publié le 09 décembre 2010 par Maman Geek dans Vu sur le Web | 8 Commentaires Pas toujours facile de s'y retrouver, de savoir quoi faire, ou et quand … Pour ma part j'ai envie de faire beaucoup de chose avec James (bébé geek) mais voilà souvent je cherche sans trouver trouver ce qui pourrait correspondre à son âge et les trois quart du temps quand je met le doigts sur l'info c'est trop tard : la sortie n'est déjà plus possible lorsqu'il s'agit d'événements temporaires ! Mercredis après midi, c'est un site mais aussi une application que j'ai bien vite installée sur mon iPhone.
Mercredis après-midi, des idées de sorties avec vos petits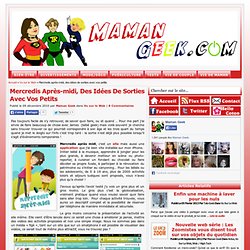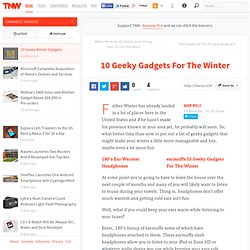 Father Winter has already landed in a lot of places here in the United States and if he hasn't made his presence known in your area yet, he probably will soon. So, what better time than now to put out a list of geeky gadgets that might make your winter a little more manageable and hey, maybe even a lot more fun.
10 Geeky Gadgets For The Winter
After telling you what we think are the hottest tech items on the market this year in the Mashable 10 gift guide, we asked you to tell us what's on holiday gadget wish list. Some items were in line with our recommendations; others were close to making our list and a few we didn't know much about.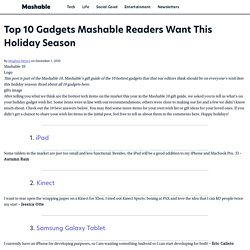 Top 10 Gadgets Mashable Readers Want This Holiday Season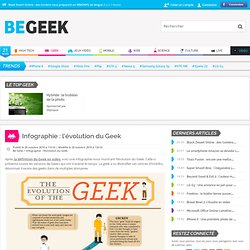 Infographie : l'évolution du Geek
Après la définition du Geek en vidéo, voici une infographie nous montrant l'évolution du Geek. Celle-ci présente toutes les versions de Geeks qui ont traversé le temps. Le geek a su diversifier ces centres d'intérêts, désormais il existe des geeks dans de multiples domaines
A l'occasion de la sortie du film sur Facebook, dirigé par David Fincher, écrit par Aaron Sorkin et inspiré du livre de Ben Mezrich « The accidental billionaires », il est intéressant de jeter un œil sur ce que cache ou déforme le film sur la véritable histoire autour de la création du plus gros réseau social du monde. Contexte du film : Le film est très largement inspiré du livre « The Accidental Billionaires » écrit par Ben Mezrich en s'appuyant sur les anecdotes et les documents fournis majoritairement par Eduardo Saverin pendant les poursuites judiciaires à l'encontre de Mark Zuckerberg. Liste des mythes :
Les 7 mensonges du film « The Social Network »
Geekmania : 7 raisons d'en finir
Stéphane Distinguin, fondateur de faberNovel, et Maxime Coupez, qui travaille avec lui, font un retour sur le PICNIC festival, événement annuel qui a eu lieu cette semaine à Amsterdam. L'objet de la manifestation ? "Concevoir le monde de demain".
Picnic de geeks à Amsterdam » Article » OWNI, Digital Journalism
Unusual Gifts, Gadgets, Gift Ideas & Toys
Le premier lapin communicant - Nabaztag
Top 10 Sites about Geek Toys
Approved Products
Here's the perfect reason to start drinking more beer.
The 10 Oddest Geek Products You'll See Today
34 Awesome Products Geeks will Love
Top 10 Worst Geek Girl Products « The Feminine Miss Geek
Top 10 des montres et horloges geeks
Smiley Lore :-)