Second Life
Amiko*amikino. Meet, chat, and make new friends. | Second Life. *LH*::::: satin dress :::::( light blue ) Language English (US) 日本語 (JP)
"Ella" Wedding Gown/Bridal Gown/Cinderella Princess Fantasy/Fairytale Wedding tagFantasy. FFrom: House of DASHWOOD: "Ella" Wedding Gown--> Exquisite Detailed Gown with intricately detailed bodice including ruching, beading, embroidery.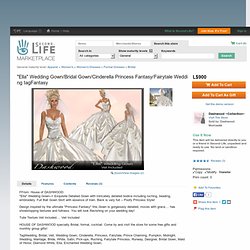 Full Ball Gown Skirt with essence of train. Back is very full -- Poofy Princess Style! Design inspired by the ultimate "Princess Fantasy" this Gown is gorgeously detailed, moves with grace.... has showstopping textures and fullness. You will look Ravishing on your wedding day! Tulle Texture Veil included.... Avatar Rendering Cost - Second Life Video TuTORial. BlakOpal Habsburg Suit - Black-Blue.
A wonderfully stylish men's suit consisting of a woven tweed jacket with satin-trimmed wide lapels, a sculpted stand-up collar, satin-trimmed cuffs, button detailing, and thigh-length coattails.
The jacket is open wide on the chest exposing a fabulous silk brocade vest worn with a white shirt. A silk cravat is wrapped many times around the neck and tied off at the front, with stand-up collar tabs peeking out the top. The suit pants are a contrasting tweed, with double-button closure at the front. LMC Winter Gown - Ice - Aida (Original Broadway Cast Recording) by Various Artists - Download Aida (Original Broadway Cast Recording) Customer Reviews Never saw it, but this album makes me wish I had by Dancing Mandy This album really requires more than one listen to fully appreciate.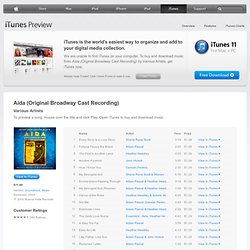 I bought it because I love Adam Pascal's voice, so at first I listened to "Fortune Favors the Brave" a lot. The Educators Are the Losers of Second Life. Deserted Lancaster University where the autoreturn is turned off unwittingly becomes a sales outlet for girls competing in the SL market and looking for any opportunity to leave out their vendors in the hopes someone will click and buy.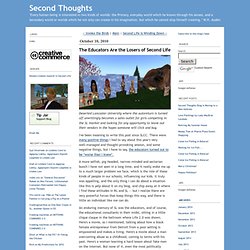 I've been meaning to write this post since SLCC. There were many positive things I had to say about this year's very well-managed and thought-provoking session, and some negative things, but I have to say, the educators turned out to be *worse than I knew*. A more selfish, pig-headed, narrow-minded and sectarian bunch I have not seen in a long time, and it really woke me up to a much larger problem we face, which is the role of these kinds of people in our schools, influencing our kids. Virtual Worlds, Avatars, free 3D chat, online meetings - Second Life Official Site. Is a virtual 'second life' for real, ask religious communicators. Is an online alternate life for real, and how does it relate to the life of faith?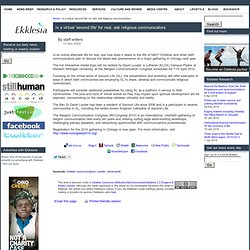 Christian and other faith communicators plan to discuss the latest web phenomenon at a major gathering in Chicago next year. The hot interactive media topic will be tackled by David Louder, a Lutheran (ELCA) Campus Pastor at Western Michigan University, at the Religion Communication Congress scheduled for 7-10 April 2010. Focusing on the virtual world of Second Life (SL), the presentation and workshop will offer examples of ways in which faith communities are employing SL to share, develop and communicate religious commitment.
Participants will consider additional possibilities for using SL as a platform in service to faith communities.
---