European
Le financement sur projets au service de la recherche. Activities - Europe INNOVA. May 2008: signature of a first cooperation agreement with the Belgian cluster "Logistics in Wallonia" September 2008: Innotrans exhibition and congress in Berlin.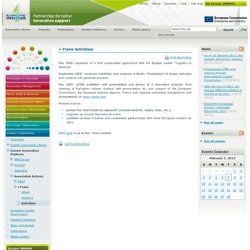 Presentation of cluster activities and contacts with potential partners. May 2009: SIFER exhibition with presentation and demos of 5 innovation projects. European Institute of Innovation and Technology: Home. EIT KICs Knowledge and Innovation Communit. EIT InnoEnergy-KIC. EIT ICT-KIC. EIT Climate-KIC. ETRIA: European TRIZ Association. Welcome to the ETRIA Portal: the official website of the European TRIZ Association, where we inform public about our activities and events, and maintain a virtual venue for the ETRIA community to communicate and collaborate.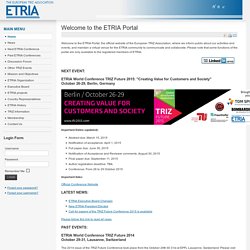 Please note that some functions of the portal are only available to the registered members of ETRIA. ETRIA World Conference TRIZ Future 2014: October 29-31, Lausanne, Switzerland With pleasure we like to announce that the 2014 issue of the TRIZ Future Conference series will take place from the October 29th till 31st at EPFL Lausanne, Switzerland. Please visit official conference website to obtain more information on the conference: official TRIZ Future 2014 website.
---