Cupcake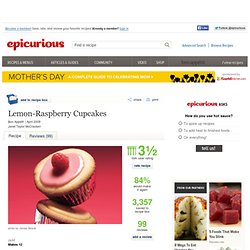 Lemon-Raspberry Cupcakes Recipe at Epicurious
photo by James Wojcik yield Makes 12 These gorgeous cupcakes have a sweet surprise inside: They're filled with a dollop of raspberry jam.
The Epi-Log on Epicurious.com: The Cupcake Kit: Make Delicious (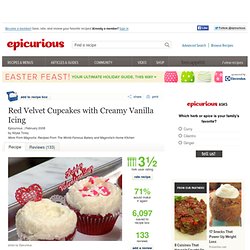 Preheat oven to 350°F. Grease and lightly flour three 9- by 2-inch round cake pans, then line the bottoms with waxed paper. To make the cake: In a small bowl, sift the cake flour and set aside. In a large bowl, on the medium speed of an electric mixer, cream the butter and sugar until very light and fluffy, about 5 minutes.
Red Velvet Cupcakes with Creamy Vanilla Icing Recipe at Epicurio
Brain Cupcakes Recipe at Epicurious
photo by Eric Staudenmaier yield Makes approximately 14-18 cupcakes Preparation 1. Line cupcake tins with the liners.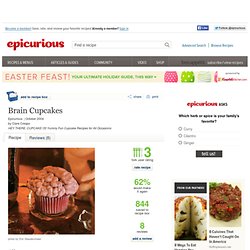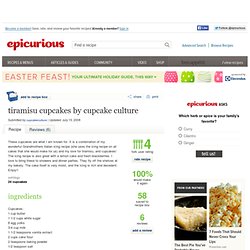 These cupcakes are what I am known for. It is a combination of my wonderful Grandmothers italian icing recipe (she uses the icing recipe on all cakes that she would make for us) and my love for tiramisu, and cupcakes! The icing recipe is also great with a lemon cake and fresh blackberries.
Tiramisu Cupcakes By Cupcake Culture Recipe at Epicurious
This is a very gooey textured cupcake recipe which uses ginger and fresh apple to make Gingerand Apple Cupcakes. The recipe does not rise very high so fill the cupcake cases to the level you want the cupcakes at, I say this with caution as ovens do vary.Ingredients150gm--5 1/2 oz--2/3 cup of unsalted butter175gm--6oz--1 cup of soft brown sugar2 tablespoons of black treacle/molasses225gm--8oz--2 cups of plain flour(all purpose)1 teaspoon of baking powder2 teaspoons of bicarbonate of soda(baking soda)2 teaspoons of ground ginger150ml--1/4 pint--2/3 cup 0f milk1 egg beaten2 eating apples peeled, cored and chopped and tossed in 1 tablespoon of lemon juiceMethod1. Put cupcake cases into a tray about 15 large2. Melt the butter, sugar,treacle in a pan over a low heat and leave to cool.3. Sieve the flour , baking powder, bicarbonate of soda and ginger into a mixing bowl4. Add the milk, beaten eggs and the cooled butter mixture from the pan to the dry ingredients in the bowl.5.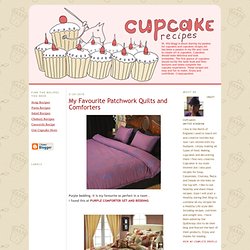 Cupcake Recipes
Black Forest Cupcakes and more delicious recipes, smart cooking
Black Forest Cupcake Recipe
If you are trying to impress - you can't go past this Black Forest Cupcake Recipe. Don't be put off by having to process the cherries, it is worth the effort. This is delicious - you just have to try it. Moist yet light, chocolate and yet subtle, cherry and yet not fruity. This is an exceptional cake recipe. This is the best cake I have ever made and eaten.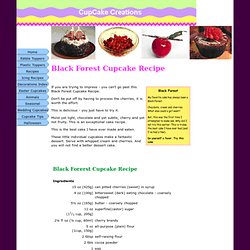 Black forest cupcakes are just like black forest cake, but in cupcake form. Black forest cupcakes are chocolate cupcakes soaked in cherry liqueur, with a cherry filling, a whipped cream topping, and cherries and chocolate on top. According to What's Cooking America, black forest cake was named in the late 16th century after the Black Forest Region in Germany (Der Schwarzwald in German) located in the state of Baden-Württemberg. In German, black forest cake is called Schwarzwälderkirschtorte.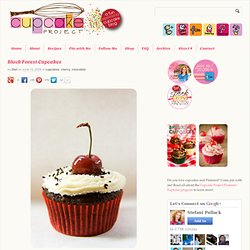 Black Forest Cupcakes