Strange stuff
The magic button — Make Everything OK
Construction of a levitating bed
...
Lois Jeans | Autumn Winter 2010 2011
Share The Happy
KUBIKVISUAL - COMUNICACIÓN MULTIMEDIA | Matias Batlle
La serre à voeux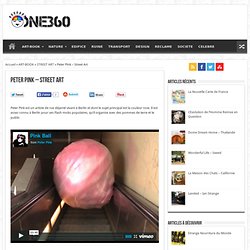 Peter Pink est un artiste de rue déjanté vivant à Berlin et dont le sujet principal est la couleur rose. Il est assez connu à Berlin pour ses Flash mobs populaires, qu'il organise avec des pommes de terre et le public. Lors des Flash mobs berlinois, les gens sont invités à décorer leurs propres pommes de terre avant de les liberer sur le trottoir de la ville. L'artiste réalise aussi des collages, des structures et des installations, toujours avec du rose.
Peter Pink – Street Art | One360.eu
Save the Web !!! - Clair et Net. Webagency
Xuberance
trying out functionality of o_a_o_d initiative, while working on some issues of my thesis project. surreal potential of generative techniques in architecture is definitely underestimated. shape is an isosurface around multiple particles moving in the perlin noise space. paneling(:)) scale and color results from the field characteristics as well. even though it's rather cliche: agents, fields,panels etc, i think it's nice to interact with… aLittleBitMore refers to early practice of transparency and code sharing started most probably by Marc Fornes in 2005 and then followed by very many designers and students. What it became recently seems to be a sign of very natural inertia of such systems. each follower tries to follow other followers. as a result there is a lot of researchers investigating exactly the same thing: how to make panels on nurbs surface… no offense, i'm part of it.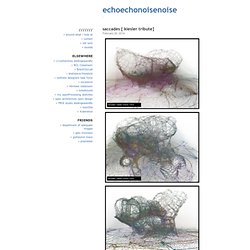 echoechonoisenoise
loading instafeed®: I wait (x4) instafeed,photography,rbridges shadow: community of dreamers all,design,document ჻ instafeed®: full of stars
strange|beautiful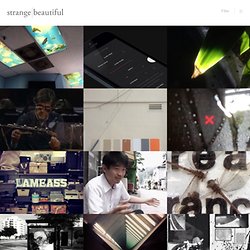 Art of Stars in HTML5 - NakshART
It's norwegian, but probably not what you think
Create your own Piccassohead
Illegal Advertising
create the virtual you.
Holography and Holograms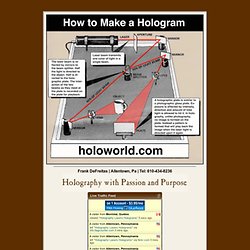 Making Holograms with Laser Pointers Diode laser holography didn't begin in a professional laboratory, it began in three basement labs -- and was documented every step of the way right here at HoloWorld. Here are the original project notes from start to finish. Includes the world's first hologram created using a solar powered laser.
HOLO-LINKS
Airtight latex vacuum cube from www.eurocatsuits.com
Social Center
Mystique non-philosophique à l'usage des contemporains| philosophie-non-standard
50 scientifiques réunis pour une nouvelle définition du temps
The Providence Design District
Crealev Magnetic Levitation Technology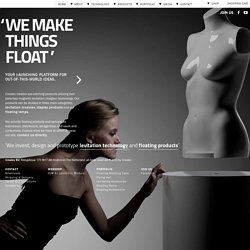 Crealev creates eye-catching products utilizing own patented magnetic levitation (maglev) technology. Our products can be divided in three main categories; levitation modules, display products and our floating lamps. We provide floating products and services to businesses, distributors, ad-agencies, end-users and consumers. Curious what we have to offer? Browse our site, contact us directly or have us call you back via our callback button.