Strange stuff
The magic button — Make Everything OK. Construction of a levitating bed. ... Lois Jeans | Autumn Winter 2010 2011. Share The Happy. KUBIKVISUAL - COMUNICACIÓN MULTIMEDIA | Matias Batlle. La serre à voeux. Peter Pink – Street Art. Peter Pink est un artiste de rue déjanté vivant à Berlin et dont le sujet principal est la couleur rose.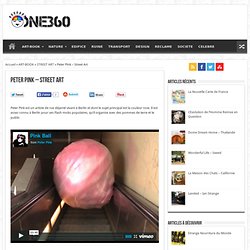 Il est assez connu à Berlin pour ses Flash mobs populaires, qu'il organise avec des pommes de terre et le public. Lors des Flash mobs berlinois, les gens sont invités à décorer leurs propres pommes de terre avant de les liberer sur le trottoir de la ville. L'artiste réalise aussi des collages, des structures et des installations, toujours avec du rose. Save the Web !!! - Clair et Net. Webagency. Xuberance. Echoechonoisenoise. Survival and zombie. Survival and zombie. Strange|beautiful. Art of Stars in HTML5 - NakshART. It's norwegian, but probably not what you think. Create your own Piccassohead.
Photo art @Mind3Web
Illegal Advertising. Create the virtual you. Holography and Holograms. HOLO-LINKS. Airtight latex vacuum cube from www.eurocatsuits.com. Social Center. Mystique non-philosophique à l'usage des contemporains| philosophie-non-standard. 50 scientifiques réunis pour une nouvelle définition du temps. The Providence Design District. Crealev Magnetic Levitation Technology.
---