Quotes
Seven quotes for a Thursday afternoon - Part five. "Always be a first rate version of yourself instead of a second rate version of somebody else" Judy Garland.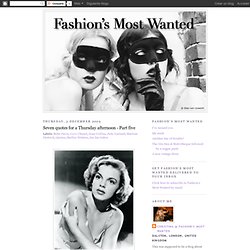 Quotation,quote,quotes,text,words-d314e090357632ff99a70788cca380. Hunter S. Thompson quotes (page 2 of 4) Some Useful Condescending Phrases. Quotes about life (page 2 of 112) Hope,inspiration,life,visual,text,love,advice-7561838f722ef98be7. Great Quotes by Great Ladies.
Old age ain't no place for sissies.
-Bette Davis A man's got to do what a man's got to do. A woman must do what he can't. -Rhonda Hansome. Swineflu.jpg (JPEG Image, 567x66 pixels) 13146777.jpg (JPEG Image, 400x405 pixels) Terry Pratchett Quotes. 2mhhtap.jpg (JPEG Image, 648x792 pixels) - Scaled (65.
---