Hip Hop
T-Zank - The Lyricist [Dir. @MilesMeyerFilms]
Nyzzy Nyce - My City National Trailer
Photo by kaeprodigy
New York, N.Y. -- Whether you're an aspiring artist or simply a daydreamer, you've likely fantasized about what it would be like to leave your nine-to-five grind behind and try your luck in the music game. But what is the life of an artist on the come-up really like? To answer that very question, we have launched a new, DJBooth-exclusive interview series titled Quit Your Day Job, in which a variety of emerging artists will offer their real, true-to-life insights into the independent grind.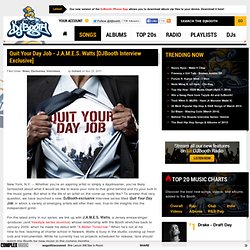 Quit Your Day Job - J.A.M.E.S. Watts [DJBooth Interview Exclusive] - Hip Hop News
Chaîne de goldeneaglesmedia
Welcome to YouTube! The location filter shows you popular videos from the selected country or region on lists like Most Viewed and in search results.To change your location filter, please use the links in the footer at the bottom of the page. Click "OK" to accept this setting, or click "Cancel" to set your location filter to "Worldwide".