Pasta/pizza
BLOGHUNGRY: Pepperoni Pizza Monkeybread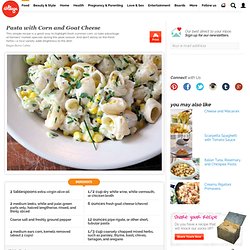 Try Kitchen View! Take your computer to the kitchen and view this recipe full-screen, with step-by-step directions. Enter Kitchen View 1 Bring a large pot of salted water to a boil. Heat olive oil in a large sauté pan over medium heat; add leeks and a pinch of salt. Cook, stirring occasionally, until leeks are almost completely tender and translucent.
Pasta with Corn and Goat Cheese
Carbonara is one of my favorite pasta dishes and I had been craving it. A carbonara pasta is normally made from an egg yolk, pecorino romano, bacon and pepper. Asparagus is in season and I was thinking that it was similar in shape to penne pasta and that and asparagus penne carbonara would be really nice. Carbonara is really easy to make and it comes together in less time that it takes to cook the pasta. The asparagus carbonara was really good!
Asparagus Carbonara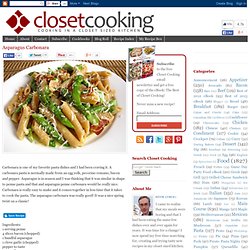 Orzo with Garbanzo Beans, Goat Cheese, and Oregano