Hobbies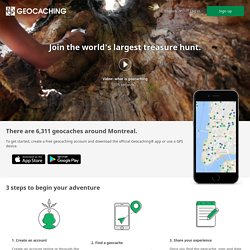 Skip to Navigation Skip to Content Geocaching is the real-world treasure hunt that's happening right now, all around you. There are 2,368,962 active geocaches and over 6 million geocachers worldwide. Learn more about geocaching and how you can join the adventure.
My Page
Geocacher University | Let's Go Geocaching!
Emergency Logbooks One of the resources that seems to get a lot of use here are the little Emergency Logbook pdfs. It's always very cool for me when I pop open a cache container and find one of these logbooks inside! Recently, JCMTL1 contacted me about translating these into French and bilingual French/English versions. These are now available for download at the link above. Thanks to JCMTL1 for the great work!