ShortFilm
Filmmaking. Parts[edit] Film production involves several major stages:[1] Development — The first stage in which the ideas for the film are created, rights to books/plays are bought etc., and the screenplay is written.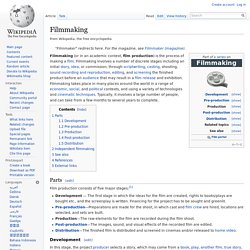 Financing for the project has to be sought and greenlit.Pre-production—Preparations are made for the shoot, in which cast and film crew are hired, locations are selected, and sets are built.Production—The raw elements for the film are recorded during the film shoot.Post-production—The images, sound, and visual effects of the recorded film are edited.Distribution—The finished film is distributed and screened in cinemas and/or released on Home entertainment. Development[edit] Next, a screenwriter writes a screenplay over a period of several months. TV Videos: An Idea in the Making by John. The Life: Changing the World - Film Your Issue 2008 - AOL Video. Film & Video. The following films are presented for educational and non-commercial use only.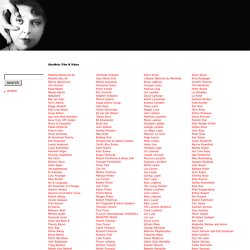 All copyrights belong to the artists. About UbuWeb Film & Video UbuWeb is pleased to present hundreds of avant-garde films & videos for your viewing pleasure. However, it is important to us that you realize that what you will see is in no way comparable to the experience of seeing these gems as they were intended to be seen: in a dark room, on a large screen, with a good sound system and, most importantly, with a roomful of warm, like-minded bodies.
U2 - Window In The Skies: Nexus Version. Web 2.0 - Thefirstpost.co.uk. Shorts. Apnee short film. Film Network - Black or White? Film Network - The Shock Doctrine. Film Network - The End. Film Network - Le Cheval 2.1. Film Network - comedy. Film Network - filmmaking guide: what makes a good short? Film Network - Happy Birthday Granddad.
---