Fuel Power Cell
Get flash to fully experience Pearltrees
You've probably heard about fuel cells . In 2003, President Bush announced a program called the Hydrogen Fuel Initiative (HFI) during his State of the Union Address. This initiative, supported by legislation in the Energy Policy Act of 2005 (EPACT 2005) and the Advanced Energy Initiative of 2006, aims to develop hydrogen, fuel cell and infrastructure technologies to make fuel-cell vehicles practical and cost-effective by 2020. The United States has dedicated more than one billion dollars to fuel cell research and development so far. So what exactly is a fuel cell, anyway? Why are governments, private businesses and academic institutions collaborating to develop and produce them?
The fuel cell will compete with many other energy­ conversion devices, including the gas turbine in your city's power plant, the gasoline engine in your car and the battery in your laptop . Combustion engines like the turbine and the gasoline engine burn fuels and use the pressure created by the expansion of the gases to do mechanical work. Batteries convert chemical energy back into electrical energy when needed. Fuel cells should do both tasks more efficiently.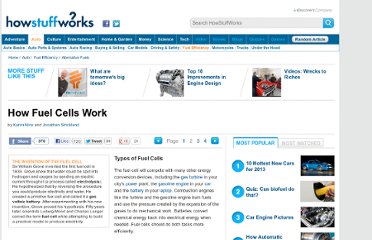 Fuel cells are self-contained power generation devices that are able to produce reliable electricity for residential, commercial, industrial and transportation applications. A fuel cell can convert hydrogen directly into electricity that can be used to power an electric car, for example, or a home. What Are the Benefits? In fuel cells, the use of hydrogen produces fewer greenhouse gases than does burning fossil fuels.
Sorry, been working on a few more websites and did not yet have time to encode and upload the videos. Will hopefully still do this this night, at least a few. Yes, only the alu foil is consumed, if you do it right with the right electrolyte mix, so as Alufoil is cheap and available in every supermarket you can get build yourself great batteries for emergencies to power a few LED in series.