To do
Oh, Deer!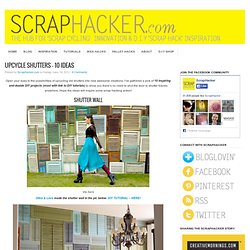 Posted by ScrapHacker.com on fredag, mars 16, 2012 · 6 Comments Open your eyes to the possibilities of upcycling old shutters into new awesome creations. I've gathered a pick of 10 inspiring and doable DIY projects (most with link to DIY tutorials) to show you there's no need to shut the door to shutter futures anywhere. Hope the ideas will inspire some scrap hacking action! Shutter Wall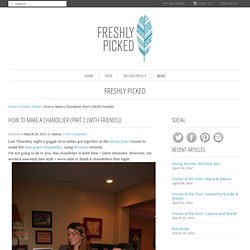 I'm not going to lie to you, this chandelier is both time + labor intensive. However, we worked assembly line style + were able to finish 4 chandeliers that night. 1. Tear off your wax paper into long pieces.
You all know we love a good Anthropologie knockoff around here – so a couple of days ago when I was browsing online I came across this mirror. Oh I definitely need that. Hold the presses – did that say $498??? Huh. We can do better than that. :)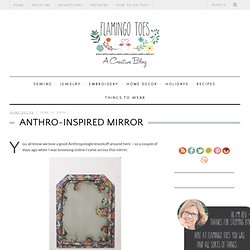 Lace Section Cast on 1 st. Row 1 [WS]: Kfb. 2 sts. 1 st increased. Row 2 [RS]: Knit. Row 3 [WS]: K1, kfb. 3 sts. 1 st increased. Row 4 [RS]: Knit.
Bigger on the inside: Knitty Spring+Summer 2012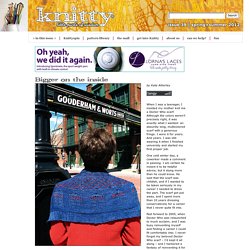 Posted by: Cathy on Jun 03, 2012 Tagged in: Untagged Summer Lights Garland I loved this idea and who would not love to receive this pretty gift. With summer around the corner this would look amazing on a terrace on a warm summer's night when socialising with friends.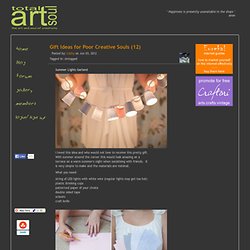 iGoogle
DIY Bridesmaid Gifts: Homemade Bubble Bath- Free Labels & Eat Drink Chic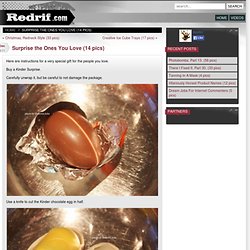 Dec 24/11 Surprise the Ones You Love (14 pics) Here are instructions for a very special gift for the people you love. Buy a Kinder Surprise. Carefully unwrap it, but be careful to not damage the package. Use a knife to cut the Kinder chocolate egg in half.
Pottery Barn Knock-Off Tutorial - Ribbon and Bird Chandelier
It seems I've teased you long enough about the flock of 250 birds on my coffee table . I've received a number of emails this week asking what I did with all of those little birds. If you guessed that I put together a Pottery Barn knock-off with those little guys, using a glue gun, then you would be correct!
Infinity Scarf Honeysuckle Pink Delicate Cowl by myhobbyshop
DIY Wreaths - Easy Holiday Crafts at WomansDay.com - Womans Day - StumbleUpon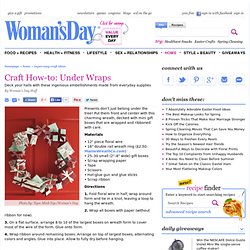 Presents don't just belong under the tree! Put them front and center with this charming wreath, decked with mini gift boxes that are wrapped and ribboned with care. Materials • 12" piece floral wire • 16" double rail wreath ring ( $2.50; MaineWreathCo.com ) • 25–30 small (2"–8" wide) gift boxes • Scrap wrapping paper • Tape • Scissors • Hot-glue gun and glue sticks • Scrap ribbon Directions 1.
Hi friends! I can't tell you how excited I am to be a creative guest on Ucreate today! I've been bubbling with excitement for weeks and have been scheming over what project would be Ucreate-worthy. I hope this one fits the bill...! First of all, I'm Autie and my friend Jen and I blog over at iCandy handmade . I'm a busy mom of 2 cute little kids and during nap time and bed time, I love to work on projects!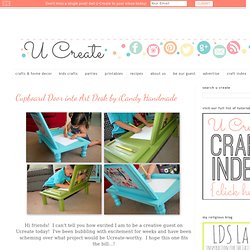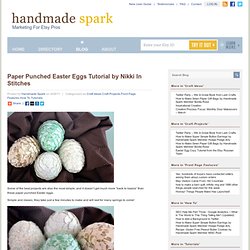 Some of the best projects are also the most simple, and it doesn't get much more "back to basics" than these paper punched Easter eggs. Simple and classic, they take just a few minutes to make and will last for many springs to come! Materials: 5/8″ paper punch
Happy Monday everyone! Today I am going to show you how to make this necklace and introduce my first giveaway! Below are the steps to make this tulle necklace. And to win this necklace, just leave me a comment below! A winner will be announced on Friday.
Ahoy there Hipster Homers! I'm Julie and I'm the very first guest blogger on this fine site. Today's project involves breaking stuff, plants, found objects, and miniatures. Fun, right?
Need help turning your post-vacation keepsake clutter into a divine display? Our resident do-it-yourself expert, Ashley Campbell , has just what you've been looking for: As spring break and summer approach many families begin planning vacations and time to just enjoy being together. In my family unpacking from a trip often includes trying to find places to store or display random keepsakes we've picked up along the way.