Workliteracy
10 Strategies for Integrating Learning and Work (part 1) | gram
The goal of learning in the workplace is performance–individual and organizational. If we've learned nothing else in recent years, we've learned that learning is most effective when it is integrated with real work. Learning pundits encourage the this integration but don't always offer practical strategies that busy learning professionals can to use to make it happen.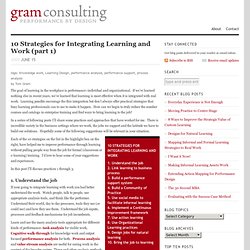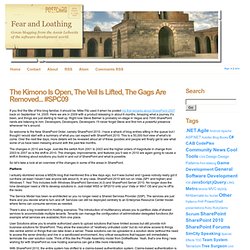 The Kimono Is Open, The Veil Is Lifted, The Gags Are Removed...
If you find the title of this blog familiar, it should be. Mike Fitz used it when he posted his first remarks about SharePoint 2007 back on September 14, 2005. Here we are in 2009 with a product releasing in about 6 months. Amazing what a journey it's been, and things are just starting to heat up.
While we are still far away from the maturity stage of Enterprise 2.0 in terms of numbers of realized projects, the discussion about the Enterprise 2.0 topic becomes more matured and leads finally beyond talking about the chances and opportunities. This might be a sign of the on-going economic crisis and its urge for a more specific discussion about this topic (see the call for the Reality Check 2.0), but it might also be a result of the emergence of the now gained insights from the first best-practices in this field. The exchange of experiences is a very supportive means for this – as enforced by initiatives like the 2.0 Adoption Council , E20Cases.org and others. This said – I think it's time to consolidate the topics to be discussed in regards to improve and enhance Enterprise 2.0 projects. From my research for setting up the conference program of the Enterprise 2.0 SUMMIT – I identified 5 key topics for project leads to take care of: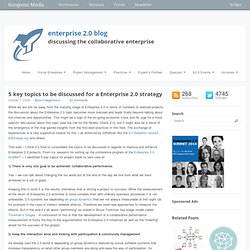 5 key topics to be discussed for a Enterprise 2.0 strategy