Socialentrepreneurship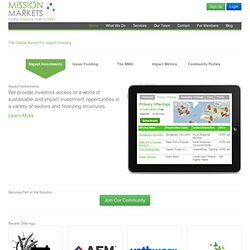 Skip to main content Mission Markets Sign Up Login The Capital Market For Impact Investing Impact Investments Issuer Funding
Home > Mission Markets
Home - eLearning Global Giveback Competition
Coaching for Results and Consumer Protection & Financial Education in Microfinance Courses Win in 2 nd eLearning Global Giveback Competition March 23 (Orlando, FL) Eric Berg, Executive Director of LINGOs (Learning in NGOs) thanked all volunteer developers and announced the eight finalists and two winners of the second eLearning Global Giveback Competition today at the eLearning Guild's Learning Solutions Conference and Expo.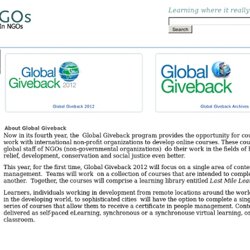 International Development Design Summit |
June 18th, 2009 There are social sites for just about every kind of interest and lifestyle choice, including dating sites, business networking, and travel planning. But for those who have a greater calling and want to make a difference in the world, these 50 sites have responded by setting up social platforms designed to connect volunteers, students, charities, entrepreneurs, and individuals, as well as make it fun and easy to learn about the causes and campaigns that are impacting our world. Environmental Issues Learn how to help the environment by joining these networks for change.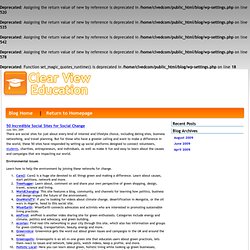 50 Incredible Social Sites for Social Change | Clear View Educat
Posted by Garrett Jacobs on Dec 30, 2013 Related program: Year in Review Archives Happy New Year! We kick off 2014 by reflecting on a year of building a more sustainable world through the power of design. Ease the holiday transition with inspiring stories, emotional testimonials and beautiful images of passion and talent. Remember this is only one of 15 years to be celebrated as we prepare for our 15th anniversary.
Quick alphabetical reference to all (or almost all) the links to people, places and projects mentioned in this blog. Includes easy reference to blog archives. Some items are referenced twice for easier finding e.g. "John Dada's 5 minute you tube Introduction to Fantsuam" comes under John Dada and Fantsuam. Please send a comment if something you hoped to find here is missing, or a link is not working, and I will try to add/fix it.
List of links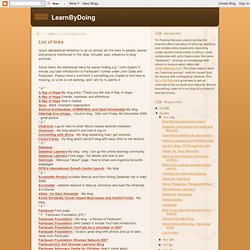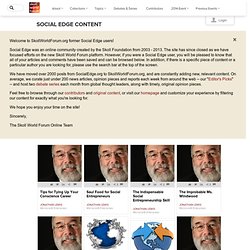 Welcome to SkollWorldForum.org former Social Edge users! Social Edge was an online community created by the Skoll Foundation from 2003 - 2013. The site has since closed as we have focused efforts on the new Skoll World Forum platform.
Knowledge Transfer for Greater Impact
Emersense
Social Entrepreneurship Twitter List by Nelson de Witt on Listor
Sudhakar Ram Group CEO and Managing Director - Sudhakar is Group CEO, Managing Director and Co-Founder of Mastek, a leading IT solutions company specializing in providing IT platforms and applications for large and complex transformation programs like the London Congestion Charging Scheme, and the National Health Service in the UK. Committed to transformation on all fronts, Sudhakar has written articles on transforming India, corporate governance, financial markets and governments.
The New Constructs: A Collaborative Book for the Connected Age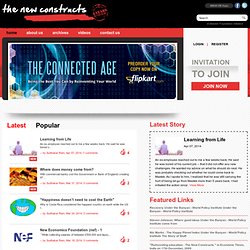 entrepreneurcommons -  Entrepreneur CommonsBringing sustainabili
entrepreneurcommons - Top 150 "Social Capital" Blogs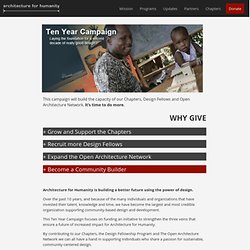 10 Year Campaign
This campaign will build the capacity of our Chapters, Design Fellows and Open Architecture Network. It's time to do more. + Grow and Support the Chapters Grow our Chapters from 50 to 80 in the next year. Volunteers drive our Chapters.