New 1
Sahana2802 | Connect. Amplify is shutting down immediately.
We've had a wonderful run and we are grateful to everyone for taking the journey with us. We've arranged for all of our users to be granted Clipboard accounts, which we believe is the best place for you to continue clipping the Web. Our existing users will receive an invitation by email, but anyone else can request an invitation directly at www.clipboard.com . Clipboard will hold Amplify's databases in trust and if there is sufficient interest they will provide a migration tool to import Amplify clips into Clipboard.
Please visit the Clipboard Blog for more information about this news. Glogster: Free ESL Materials.com | Websites | Lesson Plans. Finance Training - Amsterdam Institute of Finance. Packrati.us = Twitter + Delicious. Health Care Social Networking & Healthcare Social Media Cent. Marketing 2.0 Update 6 - Social Media Campaign Diagram - Marketi. Software industry. Carol Bartz will turn Yahoo around What is it about human nature that so many people lead to go for the negative right away?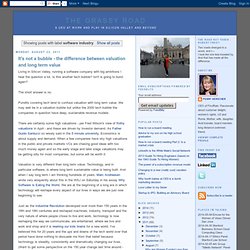 Carol Bartz' appointment to CEO of Yahoo is new news - hot off the press - and the Reuters news title is New Yahoo CEO lacks Web and deal-making chops. They do credit her business skills but go straight to her lack of Internet experience and that she has a history of doing small and medium deals - implying she doesn't have the chops for Microsoft. Frankly, I think Carol's a great pick for Yahoo. Links to other sites | Institutional Learning and Change Initiat.
ActionAid is an international anti-poverty agency whose aim is to fight poverty worldwide.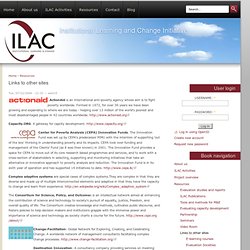 Formed in 1972, for over 30 years we have been growing and expanding to where we are today - helping over 13 million of the world's poorest and most disadvantaged people in 42 countries worldwide. Capacity.ORG. A gateway for capcity development. Center for Poverty Analysis (CEPA) Innovation Funds. The Innovation Fund was set up by CEPA's predecessor PIMU with the intention of supporting 'out of the box' thinking in understanding poverty and its impacts. Money Changers: Eight Startups Brimming With Hope for the Financ. Viewer :: 77494864_f096ac672c_b.JPG. Business and Industry: Banking, finance and accounting publicati.
Agent iSolutions. Revolutionizing Enterprise Software. NetworkedStudentProcess0110.jpg. Stand Up & Come Together with The Relentless Foundation &amp. The Relentless Foundation, a non‐profit 501c3 organization, has been formed around a single belief: entrepreneurs change the world.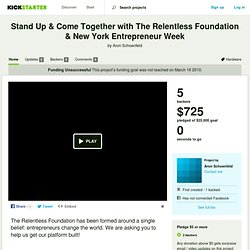 In pursuit of this ideal, the foundation's objective is two‐fold: 1. Links of interest | www.storytelling.co.za - Storytelling for Ch. MINDWEST Strategies. AdWords Help. FEI Financial Reporting Blog. Let's Call It the Humanity Sector - Dan Pallotta - Harvard. By Dan Pallotta | 11:47 AM December 22, 2009 Anyone who has thought about it for more than a nanosecond agrees that "nonprofit" is about the worst possible summary we could give of ourselves and our work.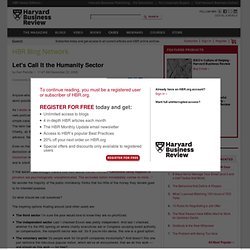 As I wrote recently, the word "profit" comes from the Latin noun profectus for "progress" and the verb proficere for "to advance." Thus, "nonprofit" means, etymologically, nonprogress. This is not a simple case of mistaken meaning. The National Venture Capital Association and SecondMarket Announ. The World's First Social eReading Software | ReadCloud. Weekly Wisdom Roundup # 57 (Week. Dear Readers, I'm very interested in growing the readership of this weekly column.
I appreciate you sending this to your friends and family. Happy Holidays, Miguel – Founder of SimoleonSense P.S. Creativity Unbound. Mid Marketplace (55) Communities and Networks Connection » Best - powered by FeedBurn. Broadcast Yourself. Whether donating or discounting premium Salesforce CRM technology to nonprofits, granting funds in local communities, or coordinating a worldwide volunteer force—the Salesforce.com Foundation has spent each day of the past 10 years making a difference through our integrated philanthropy model.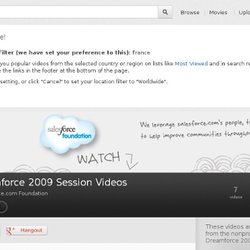 Our vision is to help nonprofits worldwide to accomplish their missions through a bold and innovative social enterprise model, as outlined below. Our mission is to leverage salesforce.com's people, technology and resources to build collective knowledge and enable collective action to improve communities throughout the world. Whether donating or discounting premium Salesforce CRM technology to nonprofits, granting funds in local communities, or coordinating a worldwide volunteer force—the Salesforce.com Foundation has spent each day of the past 10 years making a differ... Open source hardware for Humanity+ Summit, Irvine, CA - Eventbri. Invalid quantity.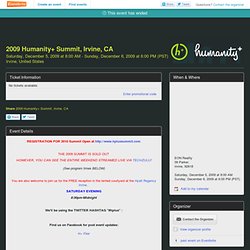 Please enter a quantity of 1 or more. The quantity you chose exceeds the quantity available. Please enter your name. Please enter an email address. Please enter a valid email address. Une veille quotidienne techno, medias & e-marketing | mikian. Reading Tools. Take Your Company Public: Go Public Fast, Easy and Cheap! | Atto.
Emergent by design. Online Community Examples | FreshNetworks Blog. Live data gathered from real enterprise networks shows major presence of Twitter, Facebook, SharePoint raises security concerns It's not just all talk: Social networking and collaborative applications are well-entrenched in enterprise networks around the globe, according to a new report that draws from real network data in more than 200 organizations.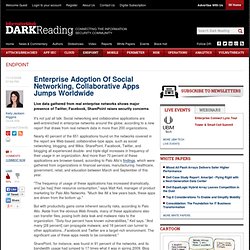 Nearly 40 percent of the 651 applications found on the networks covered in the report are Web-based, collaborative-type apps, such as social networking, blogging, and Wikis. SharePoint, Facebook, Twitter, and blogging all experienced double- and triple-digit increases in frequency of their usage in an organization. And more than 70 percent of these applications are browser-based, according to Palo Alto's findings, which were gathered from organizations in financial services, manufacturing, healthcare, government, retail, and education between March and September of this year.
Enterprise Mashups in Major Transition. Anthony J.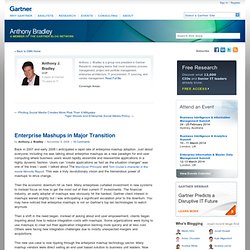 Bradley GVP 3 years at Gartner19 years in IT Anthony J. Bradley is a group vice president in Gartner Research, managing teams that cover business process management, project and portfolio management, enterprise architecture, IT procurement, IT sourcing, and vendor management. What IF We Redefined Influence? The New Influence Factor in Soci. The role of influence is changing and diversifying and with it, the rules and responsibilities of engagement are also reshaping. While PR, analyst, and investor relations were clear yesterday, the rise of new influencers , tastemakers and authoritative users and customers becomes both pervasive and uncertain. As such, new opportunities for engagement emerge; creating new opportunities for cultivating distributed relationships. However, each new connection requires management, a support infrastructure, including a dedicated host. The democratization of content production, publishing and distribution has extended the authoritative legacy of existing experts (media, analysts, pundits, online reporters) and also paved the way for a new genre of savants to join the fray.
A Recipe for Guaranteeing Failure - The Misalignment of People, PHASE 2 - SaaS Provider Puts Lotus Products to Work for SMB. HONOLULU--(BUSINESS WIRE)--PHASE 2 International (www.phase2.com) announced today that it has entered into an agreement with IBM to begin hosting the Lotus Software Suite under the PHASE 2 SaaS model. The new offering consists of the IBM®/Lotus® business collaboration suite: Lotus Notes - enterprise email messaging, Lotus Sametime – secure instant messaging, Lotus Quickr - collaborative document sharing, and Lotus Connections - secure corporate social network.
"Our business is efficiency—providing small and mid-sized organizations affordable access to the same sophisticated software solutions used by Fortune 500 companies." The software will be offered through PHASE 2's easy to use and cost-effective SaaS model. Under the model, licensing costs are based solely on monthly usage and there are no upfront costs or contract requirements. 45+ Excellent Code Snippet Resources and Repositories | Develope. Advertisement The beauty of code snippets is their ability to save you time when developing a site.
Whether you keep a file with your own often-reused snippets or turn to one of the many online repositories, snippets can really speed up your site development. There are plenty of places online to find code snippets and get answers to your coding questions. And many of these places let you upload your own snippets, either for personal use or to share with the community. Flatclassroom09-3 - Workflow Software. KnowboForm - Website Promotion, Directory Submission and Search. The Semi Automatic Web Site Submission Tool Home | KnowboForm Tutorial | Tools for Webmasters | Knowbotron Forums | KnowboForm Blog KnowboForm site submitter is a semi automatic web site submission and promotion tool with many interesting and useful features required to effectively manage web site submission, promotion and marketing activities of webmasters and small business owners.
Things That Keep Us Up at Night - 10/1/2009 - School Library Jou. Organizing University Learning: Moving Beyond the Course to Micr.
---