History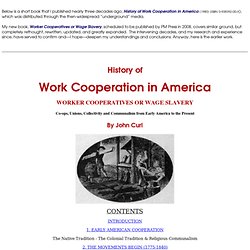 Below is a short book that I published nearly three decades ago, History of Work Cooperation in America (1980) (ISBN 0-938392-00-X ), which was distributed through the then-widespread "underground" media. My new book, Worker Cooperatives or Wage Slavery , scheduled to be published by PM Press in 2008, covers similar ground, but completely rethought, rewritten, updated, and greatly expanded. The intervening decades, and my research and experience since, have served to confirm and—I hope—deepen my understandings and conclusions. Anyway, here is the earlier work. History of Work Cooperation in America
Worker Cooperatives
History of the USA
backup2
On-The-Job Training (OJT) Chinese Philosophy - 5th-century BC Greek Philosophy- Socratic or Dialectic Method - 300 BC Apprenticeship - Middle Ages Early Schools and Pedagogy - 10th Century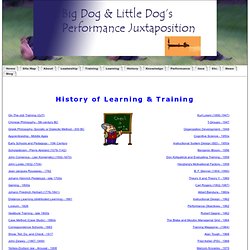 A Time Capsule of Training and Learning
The Convergence of Knowledge and Work
History: Free Courses
Natural history museums - Kngine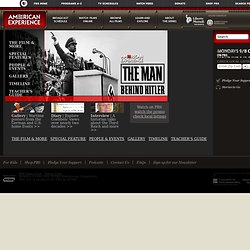 American Experience | The Man Behind Hitler
<img src="http://b.scorecardresearch.com/p?c1=2&c2=3005420&cv=2.0&cj=1" /> Gallery | Wartime posters from the German and U.S. home fronts >>
Who cares about the American Revolution and why should something that happened more than 200 years ago matter today? These are among the questions raised by a recent national survey, sponsored by The American Revolution Center, which revealed an alarming lack of knowledge of our nation's founding history, despite near universal agreement on the importance of this knowledge. The study, conducted in the summer of 2009 among a demographically representative random sample of U.S. adults, is the first national survey of adult knowledge of the American Revolution and its ongoing legacy. It reveals that Americans highly value, but vastly overrate, their knowledge of the Revolutionary period and its significance.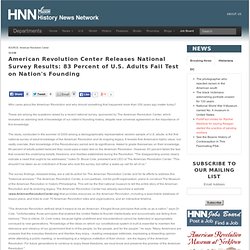 History News Network
Towards the end of the summer of 1969 – a few weeks after the moon landings, a few days after Woodstock, and a month before the first broadcast of Monty Python's Flying Circus – a large grey metal box was delivered to the office of Leonard Kleinrock, a professor at the University of California in Los Angeles. It was the same size and shape as a household refrigerator, and outwardly, at least, it had about as much charm. But Kleinrock was thrilled: a photograph from the time shows him standing beside it, in requisite late-60s brown tie and brown trousers, beaming like a proud father. Had he tried to explain his excitement to anyone but his closest colleagues, they probably wouldn't have understood.
Forty years of the internet: how the world changed for ever | Te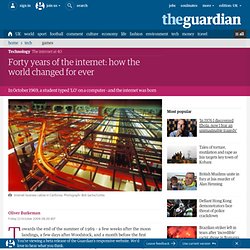 1939-1943
100: Introduction