Creativity
Helping Clients Change The Way Business Thinks & Works - Tackk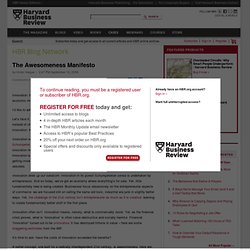 The Awesomeness Manifesto - Umair Haque - Harvard Business Revie
by Umair Haque | 2:47 PM September 16, 2009 Innovation: it's the ultimate source of advantage, the undisputed heavyweight champion of the economic ring. Innovation is what every organization should be ruthlessly pursuing, right?
Creativity is quickly becoming the next currency in the business and design world. There are millions of places to outsource non-creative work, and it's only the truly creative people who are not afraid of being replaced or outdated. Despite what many think, creativity is not decided at birth — and there are a few very simple and logical ways that you can become more creative simply by practicing and using certain methods. Here are a few of those methods, along with some tools that can help boost your natural abilities. Put these to use and watch your work become more creative. Research & Isolation: The Starting Points of Creativity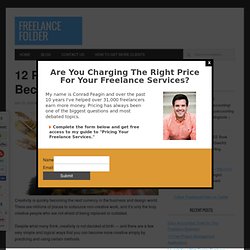 Innovation Weblog - Trends, resources, viewpoints from Chuck Fre
Creativity And Innovation Driving Business - Innovation Index
36 Awesome Idea Hubs to Spark Creative Thinking, Innovation, &am
Posted by venessa miemis on Monday, November 9, 2009 · 6 Comments There's no limit to the number of good ideas out there that could help change the world. Many times, innovative solutions grow from previously existing ideas that are tweaked and customized for current needs.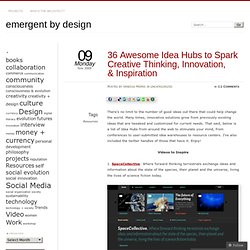 Whats On Your Horizon