Community
Welcome to Partnerships Online
One Book, One Twitter: The Lab Notes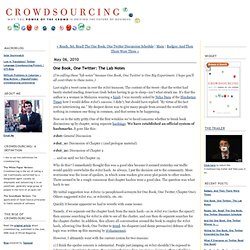 (I'm calling these "lab notes" because One Book, One Twitter is One Big Experiment. I hope you'll all contribute to these notes.) Last night a tweet came in over the #1b1t transom.
On April 2, we were attending a Tools for Catalyzing Collaboration workshop organized by Eugene Kim of Blue Oxen Associates who also happens to be a WiserEarth advisor. One of my favorite sessions of this Open Space gathering was around the definition of collaboration. Eugene shared his definition:
Collaborate only when necessary | WiserEarth Blog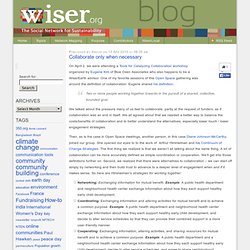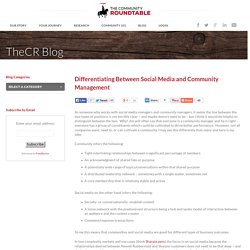 As someone who works with social media managers and community managers, it seems the line between the two types of positions is not terribly clear – and maybe doesn't need to be – but I think it would be helpful to distinguish between the two. Why? Jim will often say that everyone is a community manager and he is right – everyone has a group of constituents which could be cultivated to drive better performance.
Differentiating Between Social Media and Community Management
Welcome to the World Cafe Community of Practice! This is a place where World Cafe practitioners and supporters can share their experiences and learn from each other, a place for those new to the World Cafe to ask questions, and a place for us all to experience deep and meaningful conversations about those things that really matter to us. Pull up a chair at the World Cafe Community table that calls to you... If you're new to the World Cafe or to the idea of a community of practice, please have a look at our longer welcome and etiquette, and if you need technical help, please check the FAQs page, which has detailed instructions on how to use this site. You are welcome to post announcements of your World Cafe events (and related events are welcome if you are actively engaged in the life of this community), but please note that this is a working community of practice and not a casual social networking or promotional venue.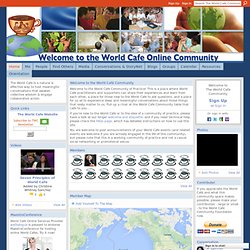 There is a long history of businesses trying to harness the power of online communities for commercial ends. Most of these attempts have failed, for the obvious reasons. There are few products or services people care about in a way that would make them want to join a community, and when people are moved to speak out about a commercial offering, it is usually to complain. Media organizations, however, would seem to be immune to these difficulties, because online media and online communities have the same output: words and images. Even here, though, there are significant obstacles to hosting community, obstacles peculiar to the nature of media.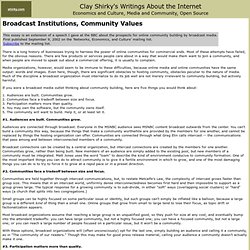 Broadcast Institutions, Community Values
90:10 Group
Wall Street Journal: WSJ Community. Discuss Groups. Answers. Con
We're sorry, your corporate account does not support this type of functionality. To set up your profile, you can Register for Free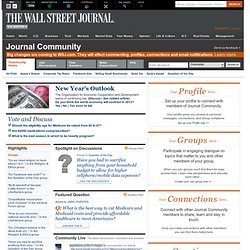 mikemost/socialweb + communitymgrs
nGenera Community - Overview
Community Managers by Luc Legay I've watched the demand for online community managers (CM) build tempo this past year. Perhaps it follows last year's frequent request from clients and others for "facebook in a box" for their organization. Now they need someone to make it work. I wonder if those 16,000 social media specialists on Twitter will re-brand as community management specialists?
2010: year of the CM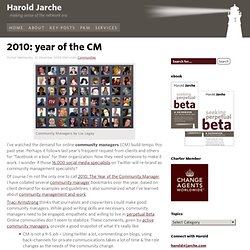 Elements of a vibrant online community – part 1 of 2: triggers,
Overview - Open Kollab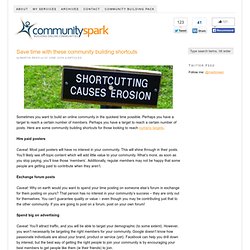 Save time with these community building shortcuts
Sometimes you want to build an online community in the quickest time possible. Perhaps you have a target to reach a certain number of members. Perhaps you have a target to reach a certain number of posts. Here are some community building shortcuts for those looking to reach numeric targets. Hire paid posters
One of the top 10 questions in social media marketing asked is "How do we kick start our community?" This post aims at providing some resources for brands that are preparing their community strategy. The old adage of the field of dreams isn't true -if you build it–they won't neccesarily come. Brands must have a kick start plan to be successful with their community. Below, I'll list out some practices I've heard from companies that have had successful communities, and I'd ask you chime in and add more ways, let's get started, I'll be as specific and actionable as possible.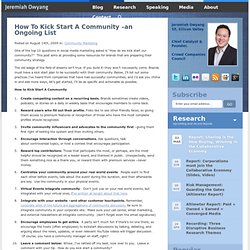 How To Kick Start A Community –an Ongoing List
community_manager_large.png (PNG Image, 1020x548 pixels)
Last week, I had the opportunity to review a draft of The Guide to Online Community Management, published by the ReadWriteWeb team and edited by Marshall Kirkpatrick. Simply put, if you're planning or considering a community effort at your organization, this is a must have. The report provides answers to any "ifs, ands & buts" with regard to the strategic importance of community engagement. Most readers of this blog come from larger organizations.
ReadWriteWeb's Guide to Online Community Management - a valuable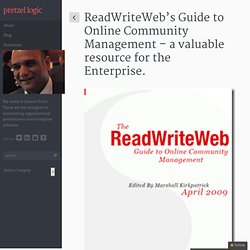 It's exciting to see that social media jobs are mainstream in companies of all sizes! The role has evolved into a number of specializations as many of us predicted it would. And companies are realizing the value and hiring people to solve the business problems that the social web has created.
Connie Bensen
Tools and methods for M&E | Institutional Learning and Chang
This section of the website summarizes methods, tools and approaches for monitoring and evaluation of collaborative projects. The texts are drawn from different sources and recognized accordingly. There are various techniques associated with M&E as Table 5, extracted from Fahrenkrog et al (2002), illustrates. We would appreciate your feedback , so that we can improve the list. We are interested in hearing successful and unsuccessful uses of evaluation methods with examples of circumstances of use. Please use the comment box, in each method's page, to write your feedback.