Community
Welcome to Partnerships Online
One Book, One Twitter: The Lab Notes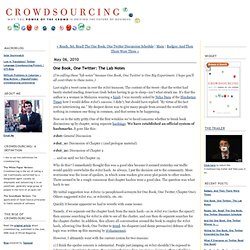 (I'm calling these "lab notes" because One Book, One Twitter is One Big Experiment. I hope you'll all contribute to these notes.) Last night a tweet came in over the #1b1t transom.
On April 2, we were attending a Tools for Catalyzing Collaboration workshop organized by Eugene Kim of Blue Oxen Associates who also happens to be a WiserEarth advisor. One of my favorite sessions of this Open Space gathering was around the definition of collaboration. Eugene shared his definition:
Collaborate only when necessary | WiserEarth Blog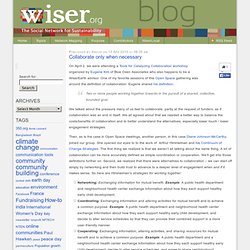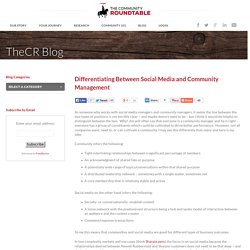 As someone who works with social media managers and community managers, it seems the line between the two types of positions is not terribly clear – and maybe doesn't need to be – but I think it would be helpful to distinguish between the two. Why? Jim will often say that everyone is a community manager and he is right – everyone has a group of constituents which could be cultivated to drive better performance.
Differentiating Between Social Media and Community Management
There is a long history of businesses trying to harness the power of online communities for commercial ends.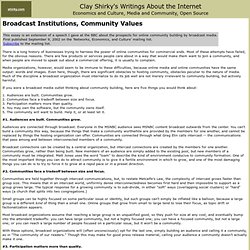 Broadcast Institutions, Community Values
90:10 Group
Wall Street Journal: WSJ Community. Discuss Groups. Answers. Con
mikemost/socialweb + communitymgrs
nGenera Community - Overview
Community Managers by Luc Legay
2010: year of the CM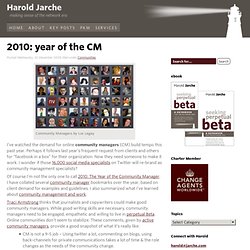 Elements of a vibrant online community – part 1 of 2: triggers,
Overview - Open Kollab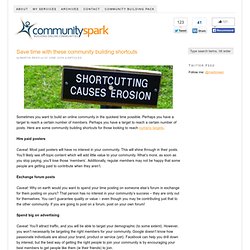 Save time with these community building shortcuts
Sometimes you want to build an online community in the quickest time possible.
One of the top 10 questions in social media marketing asked is "How do we kick start our community?"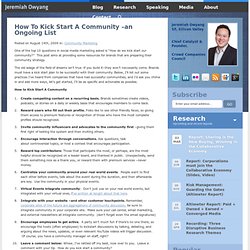 How To Kick Start A Community –an Ongoing List
community_manager_large.png (PNG Image, 1020x548 pixels)
Last week, I had the opportunity to review a draft of The Guide to Online Community Management, published by the ReadWriteWeb team and edited by Marshall Kirkpatrick.
ReadWriteWeb's Guide to Online Community Management - a valuable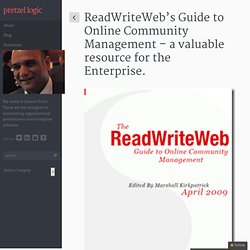 Connie Bensen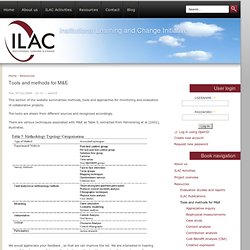 Tools and methods for M&E | Institutional Learning and Chang
This section of the website summarizes methods, tools and approaches for monitoring and evaluation of collaborative projects. The texts are drawn from different sources and recognized accordingly.