Cms
KnowledgeandLearning. CMS Watch evaluates WCM / CMS, Web Analytics, and Collaboration. Best Software to Create a Social Networking Community with CMS S. Topics. Web Content Management, Internet Design and Development | Duo Co. The Ultimate List of LinkWheel Sites. Okay guys, some of you may not know what these are for.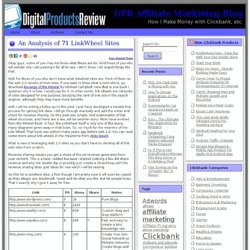 And those of you who will wonder why I am posting it for all to see. I don't know. I do stupid things like that. Content Management Connection swicki - powered by eurekster. Brings Cloud Content Management to Google Apps « Box.net Blog – Last Updated August 2, 2010 1.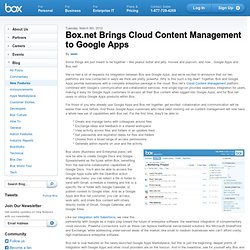 Definitions "Account(s)" means a storage account for use of the Box Solution. Functionality - Online Management Software for Your Association. What is Tendenci?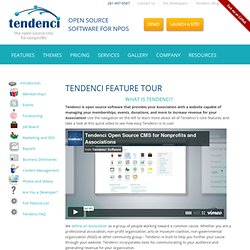 Tendenci is open source software that provides your Association with a website capable of managing your memberships, events, donations, and more to increase revenue for your Association! Use the navigation on the left to learn more about all of Tendenci's core features and take a look at this quick video to see how easy Tendenci is to use! We define an Association as a group of people working toward a common cause. 5 Best CMS For Social Blogging - Social Content Management syste. So you want to own your own social networking website?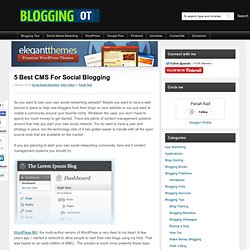 Maybe you want to have a web service in place to help new bloggers host their blogs on your website or you just want to create a community around your favorite niche. Whatever the case, you won't have to spend too much money to get started. There are plenty of content management systems around that help you start your own social network. You do want to have a plan and strategy in place, but the technology side of it has gotten easier to handle with all the open source tools that are available on the market. If you are planning to start your own social networking community, here are 5 content management systems you should try: Digitech Systems, Inc. - Any Document. Anywhere. Anytime.
Etomite Content Management System - Home - Welcome to Etomite. How to switch to a new laptop in 5 minutes. InShare0 Switching to a new computer can be a painful experience, and my own previous experiences have been just that.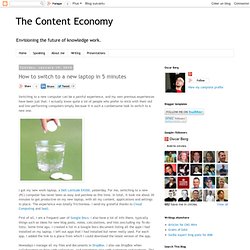 I actually know quite a lot of people who prefer to stick with their old and low-performing computers simply because it is such a cumbersome task to switch to a new one. I got my new work laptop, a Dell Latitude E4300, yesterday. Smart Solutions 23 Web Modules for Managing Website Content. 2009 Retrospective, Food for Thought and Seasons Greetings. Here we are on the brink of the night before Christmas, if that's your kind of thing.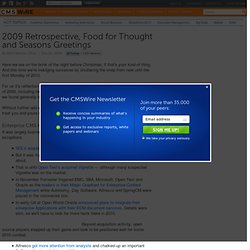 And this time we're indulging ourselves by shuttering the shop from now until the first Monday of 2010. For us it's reflection season. In that spirit we've cooked up a concise retrospective of 2009, including items our readers took particular interest in, and some things we found generally interesting. Without further ado we leave you to some holiday reading.
May the end of 2009 treat you and yours well. Content Organization Cheat Sheet. Sharebar People who create online learning get involved in many types of content development tasks.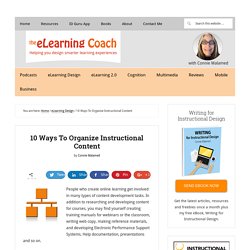 In addition to researching and developing content for courses, you may find yourself creating training manuals for webinars or the classroom, writing web copy, making reference materials, and developing Electronic Performance Support Systems, Help documentation, presentations and so on. During all of these tasks, you will be organizing content at a high level to give it a meaningful structure. A meaningful structure is logical, helping people to comprehend and retain the content as well as helping them quickly find the content they need.
---