Tech Stuff
nendo + elecom: oppopet mouse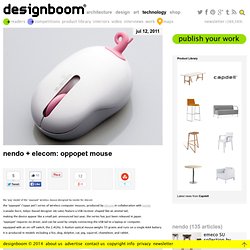 the 'pig' model of the 'oppopet' wireless mouse designed by nendo for elecom the 'oppopet' ('oppo pet') series of wireless computer mouses, produced by elecom in collaboration with nendo (canada-born, tokyo-based designer oki sato) feature a USB receiver shaped like an animal tail, making the device appear like a small pet. announced last year, the series has just been released in japan. 'oppopet' requires no driver, and can be used by simply connecting the USB tail to a laptop or computer. equipped with an on-off switch, the 2.4GHz, 3-button optical mouse weighs 55 grams and runs on a single AAA battery.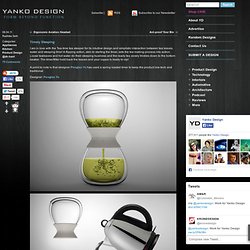 Timely Steeping I am in love with the Tea-time tea steeper for its intuitive design and simplistic interaction between tea leaves, water and steeping time! A flipping action, akin to starting the timer, sets the tea making process into action.
There is virtually no limit to what you can decorate with color-changing tiles (from Inventables). Daytime cityscapes turn into urban night scenes as the temperature in a room shifts. Notable applications include showers, floors and others surfaces likely to be exposed to temperature variations over time. While some of these are simply colored and relatively inexpensive there are all kinds of untapped design potentials yet to be explored.