Psychologie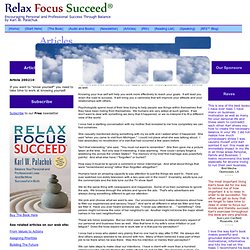 Know Yourself
Know Yourself by Karl W. Palachuk The more you know about yourself, the happier you'll be.
De 7+-2 mythe in usability ontrafeld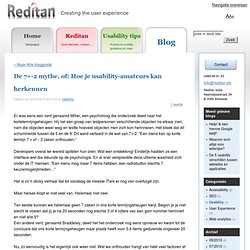 Er was eens een vent genaamd Miller, een psycholoog die onderzoek deed naar het kortetermijngeheugen. Hij liet een groep van testpersonen verschillende objecten na elkaar zien, nam die objecten weer weg en testte hoeveel objecten men zich kon herinneren. Het bleek dat dit schommelde tussen de 5 en de 9.
Dual n-task - dual-n-task.com
Je Zelf zijn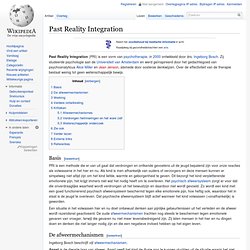 Past Reality Integration (PRI) is een vorm van psychotherapie, in 2000 ontwikkeld door drs. Ingeborg Bosch. Zij studeerde psychologie aan de Universiteit van Amsterdam en werd geïnspireerd door het gedachtegoed van psychoanalyticus Alice Miller en Jean Jenson, alsmede door oosterse denkwijzen. Over de effectiviteit van de therapie bestaat weinig tot geen wetenschappelijk bewijs. Basis[bewerken]
Past Reality Integration