News
Unity among Chinese nothing to do with MCA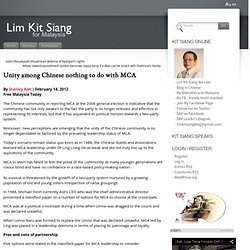 By Stanley Koh | February 14, 2012 Free Malaysia Today The Chinese community in rejecting MCA at the 2008 general election is indicative that the community has not only awaken to the fact the party is no longer relevant and effective in representing its interests, but that it has expanded its political horizon towards a two-party system. Moreover, new perceptions are emerging that the unity of the Chinese community is no longer dependable or factored by the prevailing leadership status of MCA. Today's scenario remain status quo even as in 1988, the Chinese Guilds and Associations blamed MCA leadership under Dr Ling Liong Sik as weak and did not truly live up to the aspirations of the community. MCA in short has failed to feel the pulse of the community as many younger generations are colour blind and have no confidence in a race-based policy-making nation.
malaysianunplug.blogspot.com/2012/02/here-for-more-httpwww.html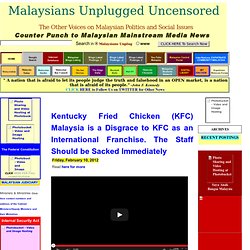 Read here for more http://www.youtube.com/verify_age?next_url=/watch%3Fv%3DRz5StzOUC_s%26feature%3Dplayer_embedded Another video uploaded as KFC punch-up riles Malaysians by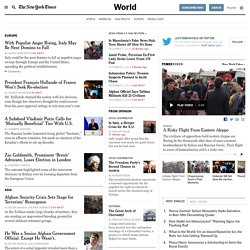 Mechanics of the Plane Search, Explained Moments From Pistorius's Time on Stand Times Minute | Kiev's Military Operation Times Minute | Afghan Uncertainty Shots Fired in KramatorskBrazil Tracks From Boom to RustA Vote Against Congress in India?Gaza Runner, Israeli HurdlesTimes Minute | Why Pistorius FascinatesTimes Minute | Elections in AfghanistanIndia's Next Prime Minister?One Afghan Woman's VoiceMusical Tributes for Mexico's DeadU.N. and Syrians on Refugees in LebanonTimes Minute | Afghan Elections PreviewAfghan Candidates Make Final PitchesThe Jonathan Pollard Case, ExplainedMorocco's 'Mule Ladies'Debate Over Palestinian Prisoner ReleasePoland's 'Rathole Miners'The Russification of CrimeaHumans' First Appearance in the AmericasU.N. Calls Annexation of Crimea IllegalI.M.F. Announces Bailout for UkraineObama Meets Pope FrancisObama Gives Speech in BrusselsObama and E.U.