News
Malaysia Today - Your Source of Independent News. Unity among Chinese nothing to do with MCA. By Stanley Koh | February 14, 2012 Free Malaysia Today The Chinese community in rejecting MCA at the 2008 general election is indicative that the community has not only awaken to the fact the party is no longer relevant and effective in representing its interests, but that it has expanded its political horizon towards a two-party system.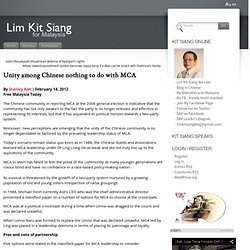 Moreover, new perceptions are emerging that the unity of the Chinese community is no longer dependable or factored by the prevailing leadership status of MCA. Today's scenario remain status quo even as in 1988, the Chinese Guilds and Associations blamed MCA leadership under Dr Ling Liong Sik as weak and did not truly live up to the aspirations of the community. MCA in short has failed to feel the pulse of the community as many younger generations are colour blind and have no confidence in a race-based policy-making nation. Malaysianunplug.blogspot.com/2012/02/here-for-more-httpwww.html. Read here for more Another video uploaded as KFC punch-up riles Malaysians by.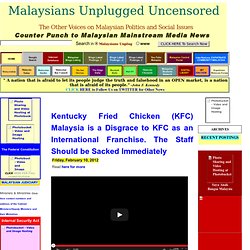 CNN.com International - Breaking, World, Business, Sports, Entertainment and Video News. Breaking News Headlines: Business, Entertainment & World News. The Star Online. Breaking News, Analysis, Politics, Blogs, News Photos, Video, Tech Reviews - TIME.com.
Malaysiakini. Business & Financial News, Breaking US & International News. International News.
---