News and Media
Magazines
Truthdig: Drilling Beneath the Headlines. International News. National News Sources. Local News. Newser | Headline News Summaries, World News, and Breaking News. ABC.net.au. NPR : National Public Radio : News & Analysis, World, US, Music & Arts.
German Magazins and Newspapers. Alternative News. News. By Kerry Mcqueeney Updated: 08:03 GMT, 8 December 2011 Bleak, isolated, damaged yet beautiful, these stunning images show the country's landscapes as you've never seen them before.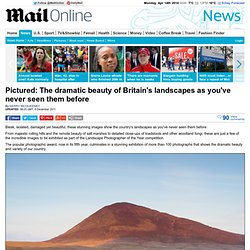 From majestic rolling hills and the remote beauty of salt marshes to detailed close-ups of toadstools and other woodland fungi, these are just a few of the incredible images to be exhibited as part of the Landscape Photographer of the Year competition. The popular photographic award, now in its fifth year, culminates in a stunning exhibition of more than 100 photographs that shows the dramatic beauty and variety of our country.
Mystical: The isolated Rodel Saltmarsh on the Isle of Harris, in Scotland's Outer Hebrides, is one of the images shortlisted for the exhibition. Businessweek - Business News, Stock Market & Financial Advice.
---