Places to go
5 Cool, Luxurious (and Inexpensive) Hostels. Mention the word "hostel" and most people recoil in horror, perhaps haunted by memories of dirty dorms, queues for the bathroom and rowdy backpackers.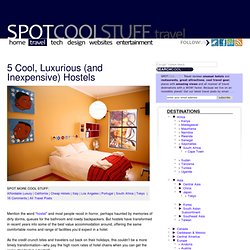 But hostels have transformed in recent years into some of the best value accommodation around, offering the same comfortable rooms and range of facilities you'd expect in a hotel. As the credit crunch bites and travelers cut back on their holidays, this couldn't be a more timely transformation—why pay the high room rates of hotel chains when you can get the same standard in a hostel? Forget the standard youth and backpacker hostel, the term now covers a huge range of lodgings, from guesthouses to beachside apartments (you can even find hostels in tree-houses and old castles these days!). 15 Least Visited Countries Tourists Should Visit More Often. Where were you dreaming of travelling to this summer?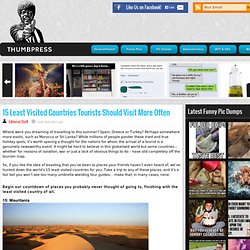 Spain, Greece or Turkey? Perhaps somewhere more exotic, such as Morocco or Sri Lanka? Motivation. Amazing Places To Experience Around The Globe (Part 1) - StumbleUpon. Preachers Rock, Preikestolen, Norway Blue Caves - Zakynthos Island, Greece Skaftafeli - Iceland Plitvice Lakes – Croatia Crystalline Turquoise Lake, Jiuzhaigou National Park, China Four Seasons Hotel - Bora Bora.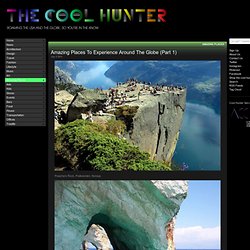 Amazing Places To Experience Around The Globe (Part 2) Tian Tan Buddha on Lantau Island, Hong Kong Fernando De Noronha - Brazil Spirit Island, Magligne Lake, Alberta, Canada Rice Field Terraces in Yunnan, China Bern, Switzerland Coron Palawan, Philippines.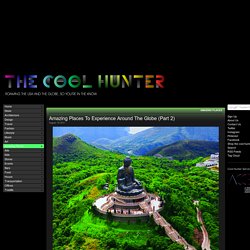 ---