A trier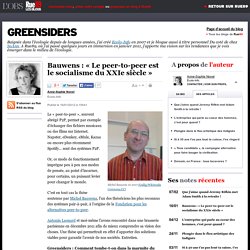 Le « peer-to-peer », souvent abrégé P2P, permet par exemple d'échanger des fichiers musicaux ou des films sur Internet. Napster, eDonkey, eMule, Kazaa ou encore plus récemment Spotify... sont des systèmes P2P. Or, ce mode de fonctionnement imprègne peu à peu nos modes de pensée, au point d'incarner, pour certains, un puissant levier pour changer le monde.
Le peer-to-peer, clé de voûte pour les économies futures ? | Adam
Compte-rendu du séminaire W2S par Michel Bauwens à la Cantine, 16 décembre 2011 « Ce ne sera pas une conférence sur comment devenir riche avec des startup, » souriait Michel Bauwens au début du séminaire W2S à la Cantine de vendredi 16 décembre. Les deux heures et demi de présentation et de discussion qui ont suivi, ayant pour thème « From Collaborative Prosumer Capitalism to a Commons-based P2P Economy », ont pourtant mis en avant la possibilité d'un véritable modèle économique alternatif basé sur le peer-to-peer (P2P), qui, loin d'être une utopie pour un futur lointain, s'infiltre toujours plus dans nos pratiques quotidiennes et pourrait constituer la clé de la durabilité à moyen et long terme de nos économies et de nos sociétés. Les évolutions de la coopération Comme M.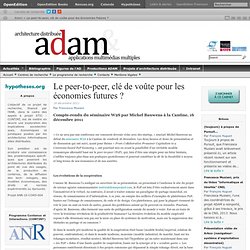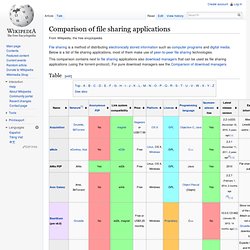 File sharing is a method of distributing electronically stored information such as computer programs and digital media. Below is a list of file sharing applications, most of them make use of peer-to-peer file sharing technologies. This comparison contains next to file sharing applications also download managers that can be used as file sharing applications (using the torrent-protocol).
Comparison of file sharing applications
Openworld - Welcome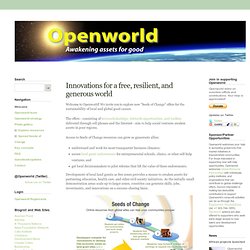 Innovations for a free, resilient, and generous world Welcome to Openworld! We invite you to explore new "Seeds of Change" offers for the sustainability of local and global good causes.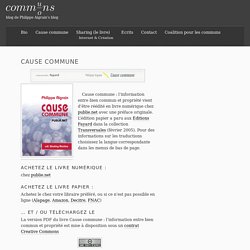 Cause commune : l'information entre bien commun et propriété vient d'être réédité en livre numérique chez publie.net avec une préface originale. L'édition papier a paru aux Editions Fayard dans la collection Transversales (février 2005). Pour des informations sur les traductions choisissez la langue correspondante dans les menus de bas de page. Achetez le livre numérique : chez publie.net Achetez le livre papier :