LESS-CSS
marceloverdijk/lesscss-java
asual/lesscss-engine
asual/lesscss-engine
LESS is a cool project that has been around for a while and extends CSS with a few nice features like variables, mixins, operations and nested rules. The best thing about it is the syntax that feels very natural and easy to learn.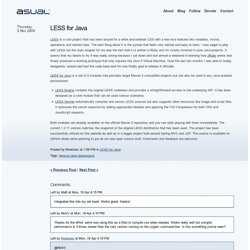 Blog - LESS for Java
Writing LESS is cool and lightning fast if you compare it to good old CSS and besides, it trains your thinking in solving functional problems.