Articles
What the French Think Hell Looks Like | The Last Goddess. Top 10 Scariest Filipino Monsters. Creepy I mentioned in a comment in 15 Bogeymen from Around the World that a list could easily be made of just Filipino monsters and mythological creatures.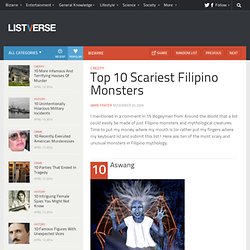 Time to put my money where my mouth is (or rather put my fingers where my keyboard is) and submit this list! Here are, ten of the most scary and unusual monsters in Filipino mythology. The aswang is probably the most common of Filipino monsters since there are so many different kinds. In general, they are shape shifters who are human by day and then at night turn into a dog, a pig, a bat, cat, snake… the type of animal depends on the regional lore. Placebo Buttons.
The Misconception: All buttons placed around you do your bidding.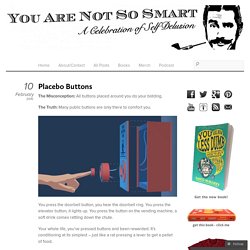 The Truth: Many public buttons are only there to comfort you. You press the doorbell button, you hear the doorbell ring. You press the elevator button, it lights up. You press the button on the vending machine, a soft drink comes rattling down the chute. Your whole life, you've pressed buttons and been rewarded. Rs. 70 Things Every Computer Geek Should Know. | Arrow Webzine. The term 'geek', once used to label a circus freak, has morphed in meaning over the years.
What was once an unusual profession transferred into a word indicating social awkwardness. As time has gone on, the word has yet again morphed to indicate a new type of individual: someone who is obsessive over one (or more) particular subjects, whether it be science, photography, electronics, computers, media, or any other field. 15 Deadliest Beach Creatures | Simply Beach Blog. Keep away from any of these 15 deadly creatures when you next visit the beach. 1.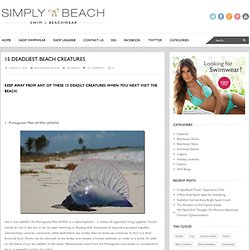 Portuguese Man-of-War Jellyfish Not a true jellyfish, the Portuguese Man-of-War is a siphonophore – a colony of organisms living together. Found mainly far out in the sea, it can be seen swarming or floating with thousands of organisms grouped together. Dermochelys coriacea, commonly called leatherback sea turtles, feed on these sea creatures. The Ten Most Revealing Psych Experiments.
Psychology is the study of the human mind and mental processes in relation to human behaviors - human nature.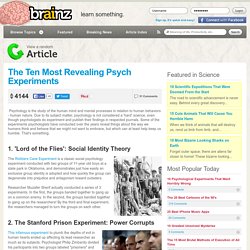 Due to its subject matter, psychology is not considered a 'hard' science, even though psychologists do experiment and publish their findings in respected journals. Some of the experiments psychologists have conducted over the years reveal things about the way we humans think and behave that we might not want to embrace, but which can at least help keep us humble. That's something. 1.
---